Grain Screening Machine Circular Rotary Vibrating Sieve ScreenIntroduction
Rotary vibrating screen is designed as a high-precision screening machinery, it is composed of a upper cover, a screen box, a base and a vertical motor with eccentric weight installed at two ends. Rotary vibrating screen can be produced in horizontal, vertical, inclined motions by adjusting the upper and lower eccentric weight. Diameter also can be ranged from 400mm to 2000mm, with single or multiple screening decks, material can be total carbon steel, total stainless steel or material contact parts are stainless steel according to different product.


Working Principle
The vibration is accomplished by eccentric weights on the upper and lower ends of the motion-generator shaft. The direction of the eccentric weights can change its rotational mode,rotation of the upper weight creates vibration in the horizontal plane, which causes material to move across the screen cloth to the periphery,while the lower weight acts to tilt the machine, causing vibration in the vertical and tangential planes. The trajectories of materials on the screen can be changed by adjusting the phase angle of upper and lower weights.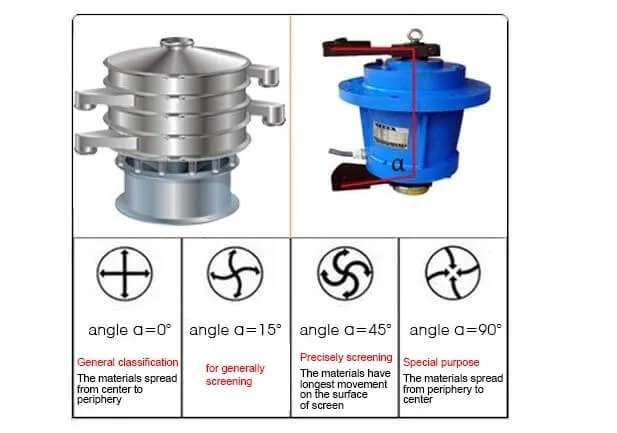 Application
Rotary Vibrating Screen is widely used in many industries, covering food, chemical, ceramic, metallurgy, pollution treatment and so on, dealing with various kinds of materials.

Advantages and Features
1.Various material separation range- power or particle,wet or dry, heavy or light,coarse or fine, hot or cold.
2.Various size range-available diameter from 400mm to 2000mm,mesh size can reach 500 mesh ( 0.028 mm).
3.Environmentally Friendly- Fully enclosed structure,no dust pollution,improve working conditions for operators as well.
4.Quick Screen Changes-Quick release device is provided to replace the screen with 5 minutes.
5.Automatic screen cleaning-bouncing balls keep screen openings clean and maintain a good efficiency.
6.Customized order- Rotary vibrating screen can be customized according to customer's demand.
7.Unique design-Mature technology,compact and simple structure,convenient installation and maintenance.
8.Wide application-Rotary vibrating screen is applicable to any powder, granule, particle and mucus.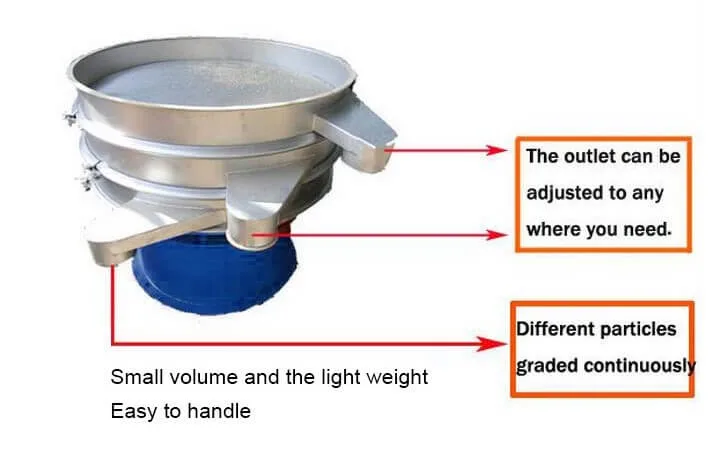 Technical Parameters
Model
Nominal Diameter(mm)
Screen Diameter(mm)
Screen Surface Area(m3)
Feeding size (mm)
Specification
NO. of Layers
Frequency(rpm)
Power(Kw)
XZ-400
400
340
0.09
<10
2-325
1-5
1500
0.18
XZ-600
600
530
0.22
<10
0.25
XZ-800
800
720
0.4
<20
0.55
XZ-1000
1000
900
0.63
<20
0.75
XZ-1200
1200
1100
0.95
<20
1.1
XZ-1500
1500
1400
1.5
<20
1.5
XZ-1800
1800
1710
2.3
<30
2.2
XZ-2000
2000
1910
2.86
<30
3.7
Note: the parameter above is just for reference,it can be customized by different requirment.
Selection Conditions
| | |
| --- | --- |
| ♦Material to be processed: _____ | ♦Max. granule size of the feeding material: _____mm |
| ♦Handling capacity (Ps. It means the total | ♦Layer number: ______ |
| material capacity feeding from the inlet): _____t/h | ♦Mesh size of each layer: _____mm |
| ♦Bulk Density: _____t/m3 | ♦Particle distribution percentage:____________ |
| ♦Material temperature: _____ºC; | (please check the following example to help you |
| ♦water content:____% | understand it.Supposing the layer number is 2 |
| ♦Material is corrosive or not: ____ (Ps. Yes or No) | and the aperture size of each layer is 10mm and 5mm, |
| ♦Material is sticky or not: ____ (Ps. Yes or No) | then you will get 3 kinds of products: X,Y and Z. |
| ♦Working environment is indoor or outdoor: _____ | X≥10mm; 5mm≤ Y < 10mm; Z<5mm. |
| ♦Working environment temperature: ______ ºC | We want to confirm the following information: |
| ♦Upstream equipment (Ps. It means what kind of | 1)The percentage of X in the whole material:_____%; |
| equipment is used to feed the material): _____ | 2)The percentage of Y in the whole material:_____%; |
| ♦Downstream equipment (Ps. It means what kind of | 3)The percentage of Z in the whole material:_____%;) |
| equipment is used to discharge the material): _____ | ♦Working power supply: _____V ______HZ |
Performance and Features
Low energy consumption, low noise
High screening accuracy, large capacity, simple structure
Fully enclosed structure, good sealing, prevent dust spillover, automatic discharge, more suitable for assembly line work
Screen body parts are used copper plate and section welded together (part group between body for bolt connection) overall stiffness is good, strong and reliable
Unique design of screen structure, convenient and quickly to change screen (only 3 to 5 minutes); And her mother screen fully supporting the fine screen, so fine screen can be long life, so as to reduce the consumables cost of the fine screen; In addition this design allows to using all kinds of screen (nylon, special dragon, PP network)
The design of the machine is exquisite and easy to assemble; one person can operate the machine
We mainly provide the following vibrating screens (screening equipment) :
PSZS gyrtory screen
YA/YK circular vibrating screen
ZS linear vibrating screen
GTS trommel screen
Troubleshooting
When rotary vibrating screen running material does not automatically discharge:
The angle between upper and lower counterweight greater than 90 °.
The upper and lower counterweight angle adjust reversing.
There are abnormal sounds when rotary vibrating screen running:
Check if the screws clamps are loose and if the clamps fit for the screen plate.
Check if the perforated screen plate damaged, or whether the grid is put in the groove.
Check whether the base is durable, if the exciting force is too strong and unstable should reinforced.
Whether there is breakage of the spring.
The motor mounting bolts loose or damaged.
Whether the body have some contact with other objects.
The motor is running abnormally or stop running.
Check whether the power supply lack of phase or power outage.
Check whether the motor coil is burn-out.
Whether the lubricant inject too much.
Lastest News about rotary vibrating screen
Last week,PK Machinery dispatched its first batch of cargo from Qingdao port to Johannesburg port .
The equipment,rotary vibrating screen is used for sieving attapulgite clay with 800kg/m3 density and 8% moisture,the total output is 2 tons per hour.Meanwhile,our client requires 4 lays,mesh sizes are:4mm,2mm,1.18mm,0.5mm.
After knowing well of client's requirement,PK engineer configured model XZS-1500-4,which can achieve the expected output,besides,we also suggested some screen mesh and vertical motor as spare parts,client spoke highly of our considerate advice and expressed his wish to cooperate with PK Machinery again.
About our factory:
In the situation of global economic integration and large and fierce competition international market, Henan Pingyuan Mining Machinery Co., Ltd (PK Machinery) takes the goal of creating a global strategy, and actively promotes technological and management innovation, as well as improves overseas business model, thus cultivates an highly qualified and inter-disciplinary talent team to adapt international market changes and overseas business development. In this case, PK Machinery can constantly enhance its international competitiveness so that could participate in international competition and cooperation at a higher level and broader area as well as more ranges, meanwhile to lead the national industry realizing leap-forward development.
It is a information explosion century in 21st century. With the development of high-tech products and its widely application, the speed of global communication and integration has been accelerated. As a high-end mining equipment manufacturer, our company attaches great importance to technology exchange and strategic cooperation with other countries. What's more, we actively expend overseas markets by mature products and perfect service systems. By the end of 2015, our products have been successfully exported to over 60 countries and regions, such as the United States, Canada, Brazil, Chile, Peru, the United Kingdom, Germany, Italy, Russia, Ukraine, Kazakhstan, Iran, Saudi Arabia, India, Pakistan, Malaysia, Thailand, South Africa, Ethiopia, Australia,etc.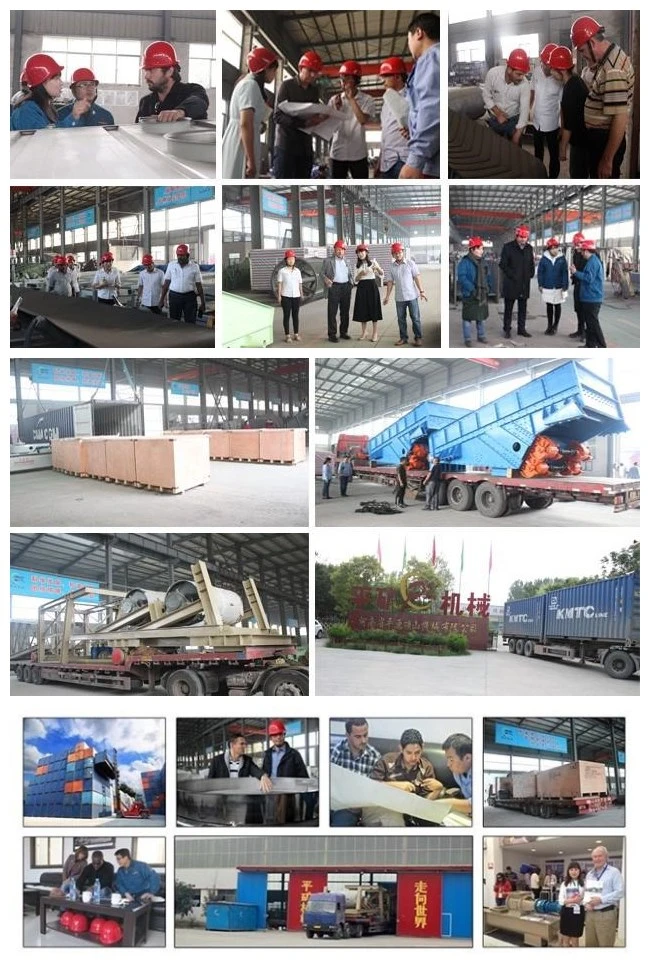 Open-door to the outside world is a platform for rapid development. Under the background of economic globalization, PK Machinery is committed to provide world-class products and superior service for our customers, and striving to optimize customer value and benefits, as well as building a bright future by superior quality.