Mini Vibrating Screen 400mm for Sifting Wheat Flour

This mini vibrating screen is ideally for sieving and separating powder, particle and slurry in many industries, such as ceramics, food processing, pharmaceuticals, chemicals, bio-chemicals, electronics, plastic, rubber, grinding, recycle and etc.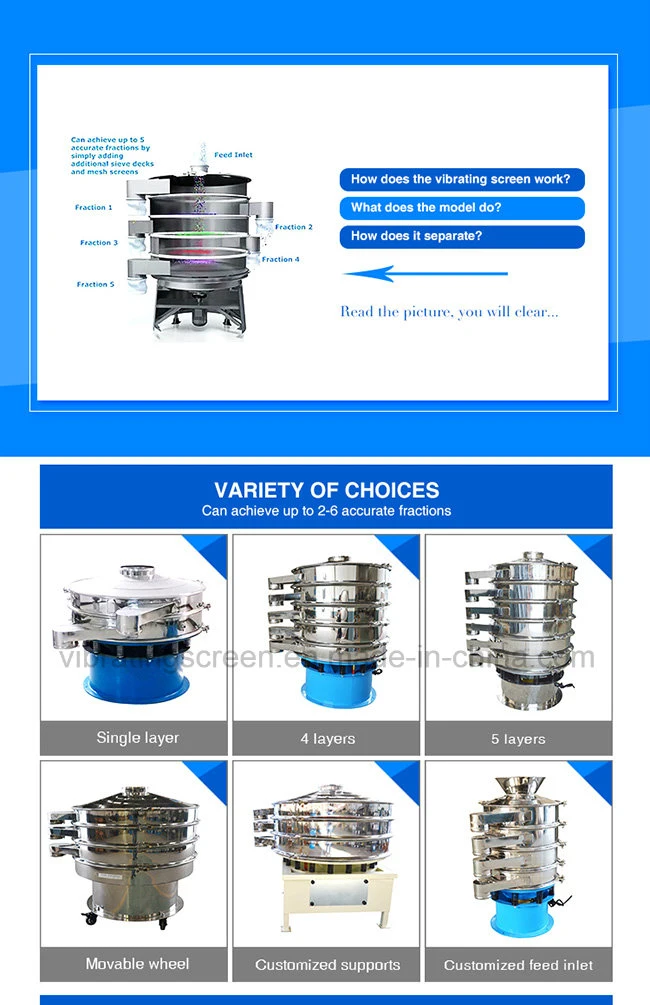 Features for mini vibrating screen
1. Compact, light weight, mobility, low noise and pollution, less energy consumption, and easy installation.
2. The machine outlet can be connected to any direction. Sieved material can be discharged straight away, suitable for automated operation.
3. No blockage on screen, high efficiency, applicable for 400 mesh or finer.
4. Unique screen design, quick for changing screens which takes only 3-5 minutes. Easy to clean.
5. Easy operation and maintenance.
6. It can be used for single deck or multi-deck. All the surfaces touch with raw materials are making by stainless steel to ensure a hygienic operation.

Function for machine
Classification: separation of solids into groups of liked sizes. Accurate sizing or classification of particles in two to five predetermined sizes.
Sifting and De-dusting: separating a small percentage of oversize or undersize solids from a large percentage of on-size solids.
De-watering: separating a small percentage of liquid or oversize solids from a large percentage of solids or on-size solids in a slurry.

Technical parameter
Model

Power

Effective screening diameter

Dimension
(mm)

Layers

BZ400

0.18kw

360mm

580*580*560

1

580*580*670

2

580*580*780

3

BZ600

0.25-0.55kw

560mm

800*800*750

1

800*800*890

2

800*800*1030

3

BZ800

0.55-0.75kw

760mm

900*900*750

1

900*900*890

2

900*900*1030

3

BZ1000

0.75-1.5kw

930mm

1160*1160*810

1

1160*1160*950

2

1160*1160*1090

3

BZ1200

1.1-1.75kw

1130mm

1360*1360*885

1

1360*1360*1050

2

1360*1360*1275

3

BZ1500

1.5-2.2kw

1430mm

1850*1850*990

1

1850*1850*1185

2

1850*1850*1380

3

BZ1800

2.2-3.0kw

1730mm

2200*2200*1050

1

2200*2200*1250

2

2200*2200*1450

3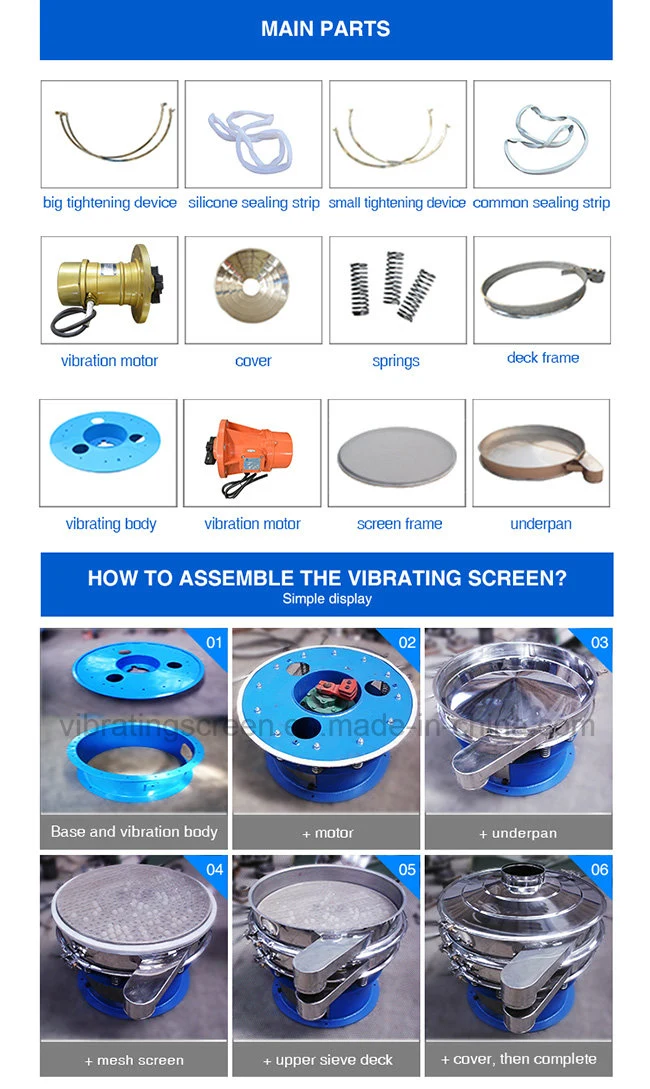 Applicable industry
1. Chemical industry: resin, pigment, cosmetic, coatings, Chinese medicine powder.
2. Food industry: sugar powder, starch, salt, rice noodle, milk powder, egg powder, sauce, syrup.
3. Metallurgy, Mining industry: aluminum powder, copper powder, ore alloy powder, welding rod powder.
4. Medical industry: all kinds of medicine
5. Waste treatment: disposed oil, disposed water, disposed dye waste water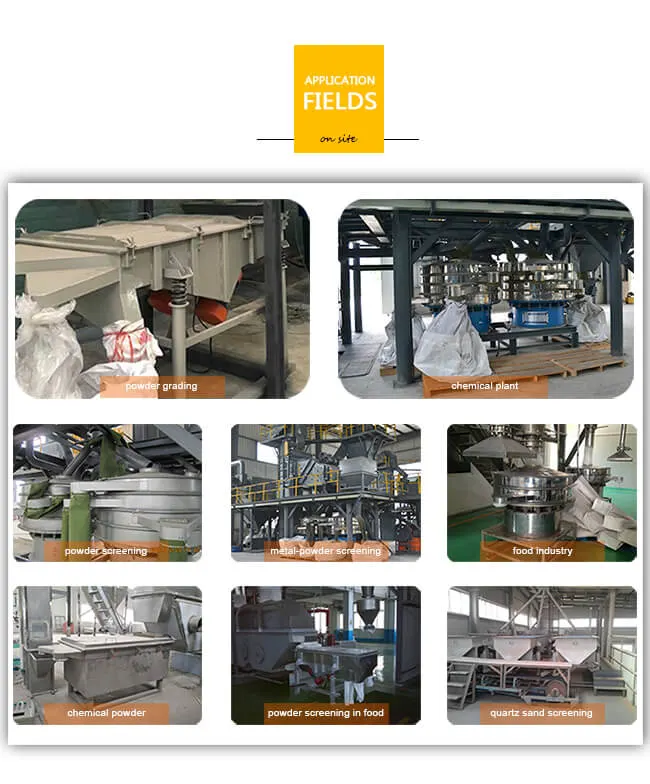 Matters needing attention
1. Before using
a. Confirm there is no any damage on the screen mesh
b. Confirm the transport supports are removed
2. In using
a. Check to confirm that there is no abnormal noise
b. Confirm the current is stable
c. Vibrating motor has a normal vibration
3. After using
Remove the dust and keeping clean

Tell us the following information for selection of the suitable mini vibrating screen:
1. Material
Name of the processed material
Characteristic of material, such as water content, size of material, specific gravity
2. Machine
Capacity per hour you asked
How many layers you asked
Sieve mesh for each layer
3. Working situation
Voltage, Hertz, Phase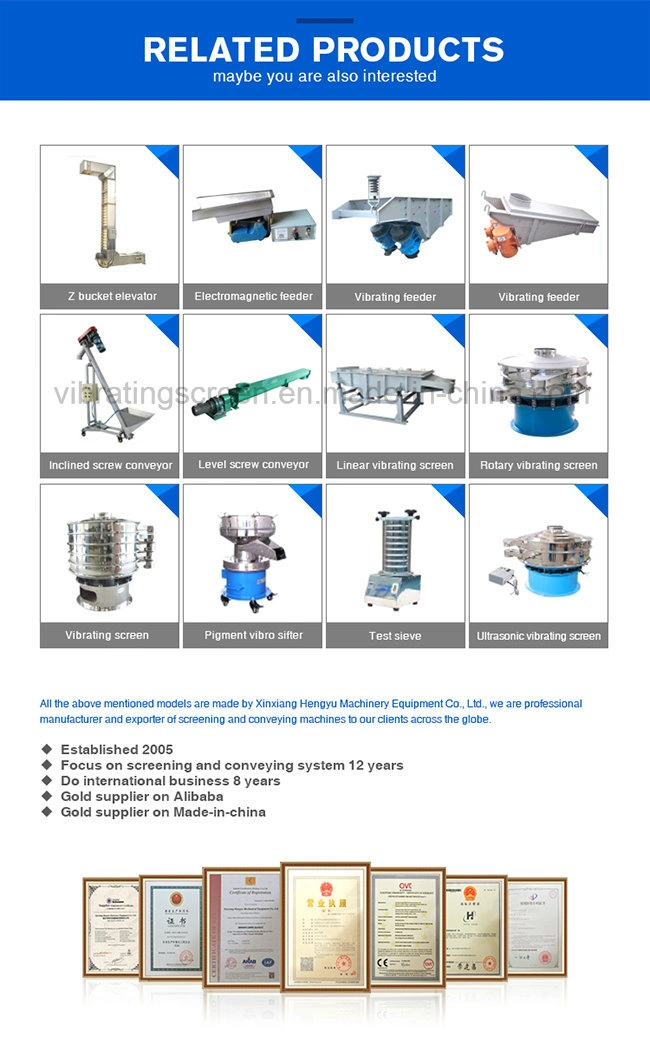 Our service
Pre-sales

Products introduction

Technical communication

Troubleshooting

Suitable model recommend

Sale

Production progress feedback

Advise time of dispatching goods

Update shipping information

Notice of customs clearance



Customer service

12 months warranty

24 hours online service

Replacing main parts within warranty

Paid maintenance after warranty

Low charge providing
quick- wear parts

For big order engineers available to service machinery overseas

Customers are often concerned questions
1. Client in South Africa: Can you please provide me the tariff code for sieving machine so I can forward it to my clearing agent?
Answer: The harmonized tariff code is: 8474.10 or you can use 8438.10
2. Client in Nigeria: List of quick-wearing parts that will be taken along with the equipment.
Answers: Quick-wearing parts include: screen, springs, seals etc... We will supply a certain amount of spare parts together with equipment for replacement
3. Client in Greece: Available warranty?
Answer: we supply warranty of one year for main parts except the quick-wearing parts.
4. Client in Thailand: The height of output to ground?
Answer: height of output to ground can be changed as requested to be 450mm. We accept customized services, diameter of feeding and discharging outlet, height of machine base and others can be changed as requirements of your working site.
5. Client in Kingdom: What's the material of your gaskets and seals because our raw material is spice?
Answers: the Gaskets and seals must be food safe material, they are made of silicon.