Multi-deck Sifter , Vibrating screen sieving machine
Vibrating screen description

It supports at most 5 layers. But 3 layers is highly recommended.

It has 4 available material,all stainless steel 304 or 316 or contact part sus304 or carbon steel Q235A.
The voltage is supported to be customized. 220/240/380/415/450V are all available.50 or 60HZ.
With large capacity,small volume, igh screening efficiency,easily changed screen and good safe performance.
Rotary vibrating screen machine is widely used for screening,grading and filtering, separating and classifying and sieving of powders,pellets, granule.
It has been used in Food,Chemical, Construction,Paper-making,Metallurgy and mining, Abrasive and ceramic industry etc.
It is composed of vibration motor,basement support,screen frame,inlet and outlets, dust-proof cove.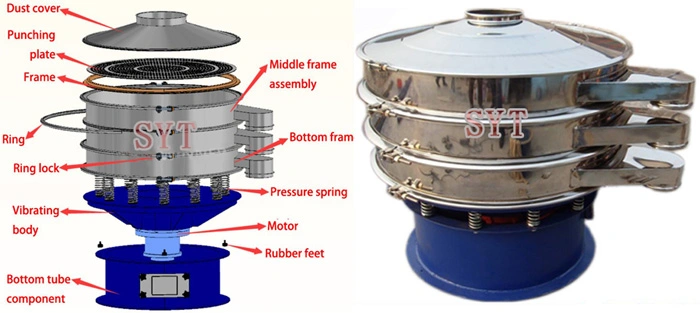 Technical parameters of vibrating screen
Model

Screen Deck

Screen Diameter

Motor Power

Dimensions(mm)

Weight

SY-400

1

400mm

0.25KW

580×580×560

55kg

2

400mm

580×580×670

65kg

3

400mm

580×580×780

75kg

SY-600

1

600mm

0.55KW

800×800×750

98kg

2

600mm

4575×1546×890

118kg

3

600mm

4854×1549×1030

138kg

SY-800

1

800mm

0.75KW

900×900×750

158kg

2

800mm

4765×2159×890

196kg

3

800mm

4765×2159×1030

238kg

SY-1000

1

1000mm

1.47KW

1160×1160×810

245kg

2

1000mm

1160×1160×950

305kg

3

1000mm

1160×1160×1090

365kg

SY-1200

1

1200mm

1.84KW

1360×1360×885

330kg

2

1200mm

1360×1360×1050

408kg

3

1200mm

1360×1360×1275

488kg

SY-1500

1

1500mm

2.2KW

1850×1850×990

478kg

2

1500mm

1850×1850×1185

578kg

3

1500mm

1850×1850×1380

678kg

Features of Vibrating screen machine
1, Function:Screening and filtering any powder or particle material or liquid.
2, Movement Locus:Upwards,Left and Right Motion,Rotation Motion.
3, Sieve Layer:1-5 Layers,the 1-3 layers is better.
4, Screen Size Range:10mm-500 mesh.
5, Driven Mode:Vibration Motor Driven.
Working principle of vibrating screen
It's vertical motor, which is installed with eccentric hammers on the top and bottom, regarded as a vibratory source. The eccentric hammers change the track of rotation in to horizontal, vertical and inclined movement, and then pass the movement to the sieving surface. Adjusting the phase angle between the top and bottom eccentric weight can change trajectories of the materials on the sieve.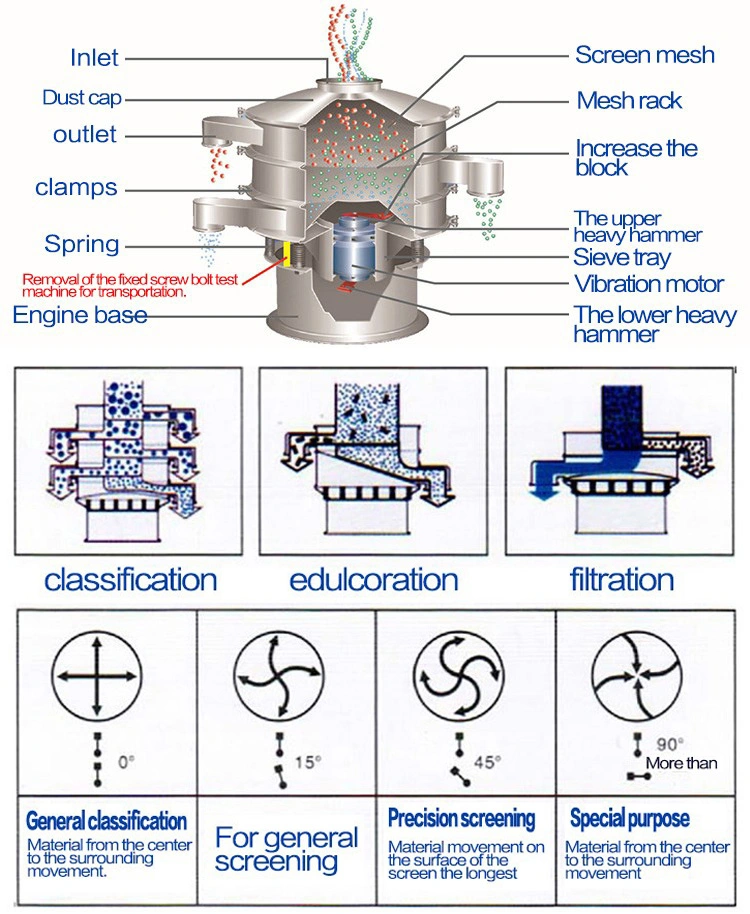 Pictures of vibrating screen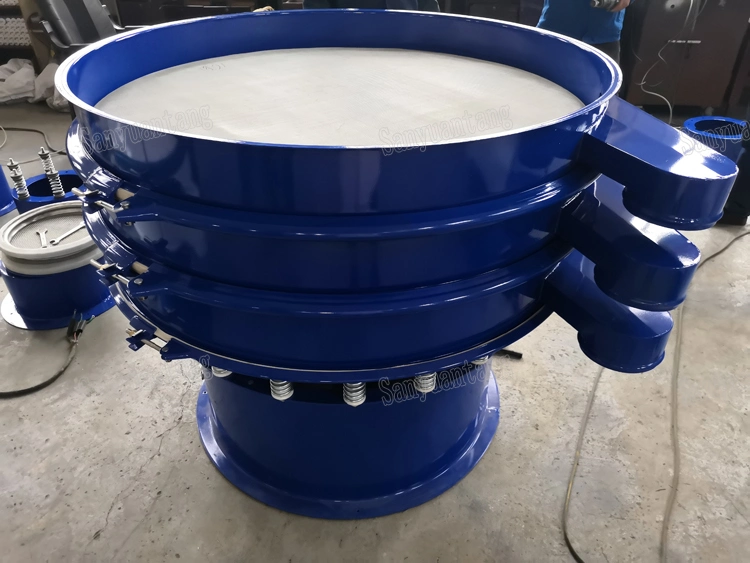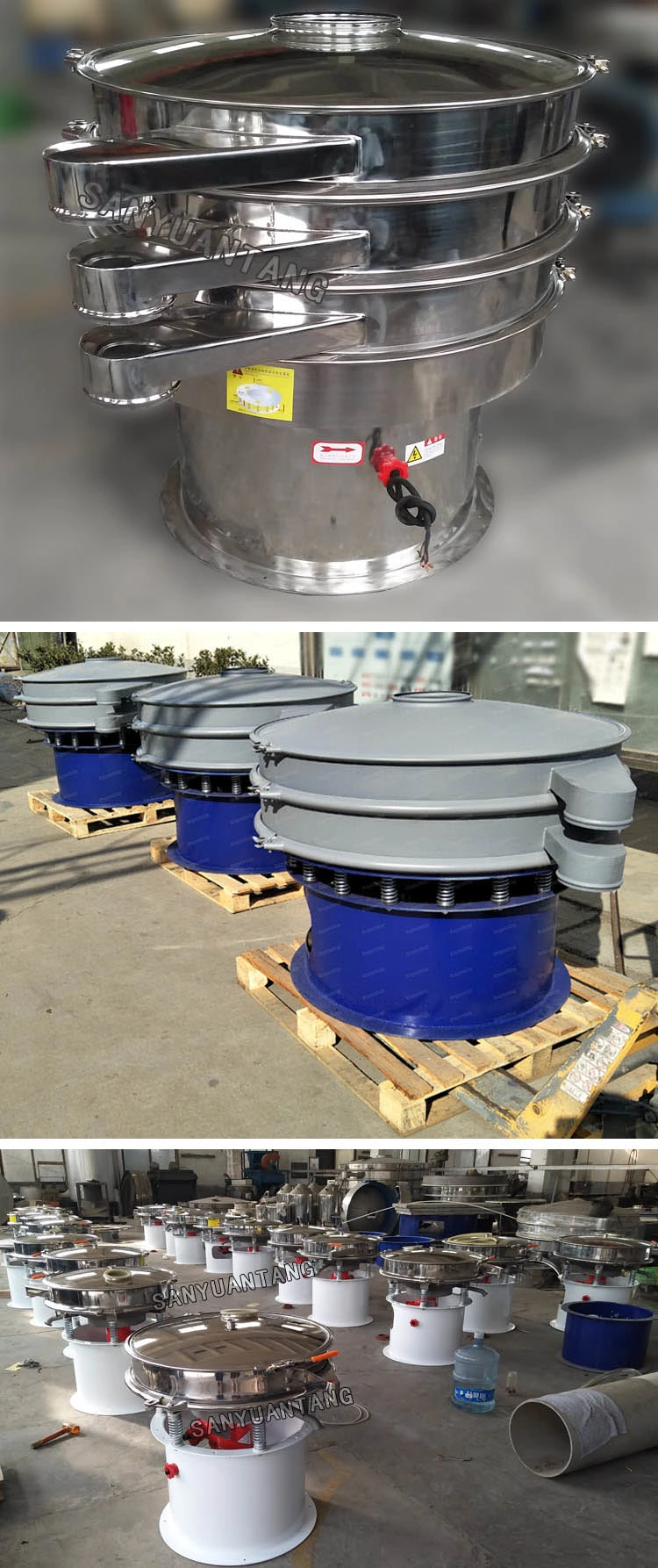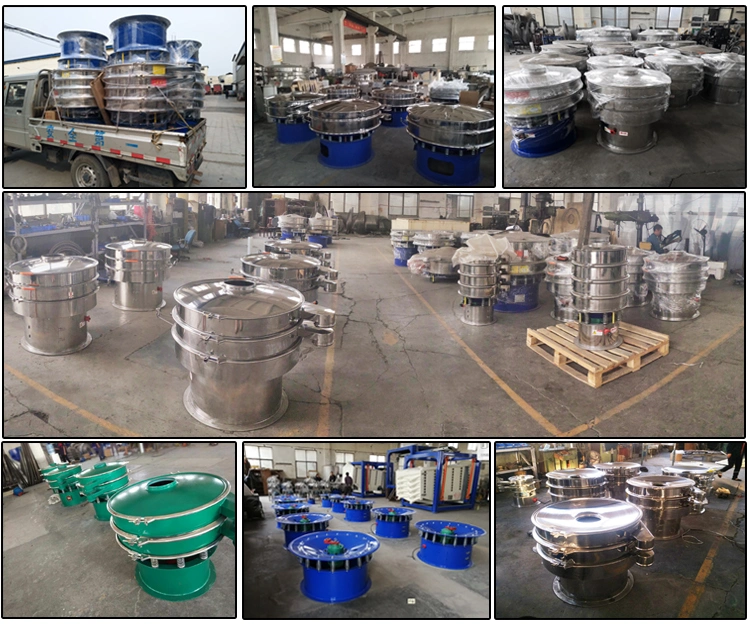 Application of vibrating screen
(1) Chemical industry: resin pigment, medicine, grease, paint, palette, etc.
(2) Abrasive material and ceramic industry: building sand, mica, alumina, abrasive, refractory material, slurry, etc.
(3) Food industry: sugar, salt, alkali, gourmet powder, starch, milk powder, yeast powder, pollen, food additive, bean milk, juice,
(4) Paper-making industry: coated slurry, exhaust liquid, paper making liquid and waste water reclamation, etc.
(5) Metallurgy and mining industry: quartz sand, ore, titanium oxide, zinc oxide, etc.

Cleaning screen device(For materials that are difficult to sieving)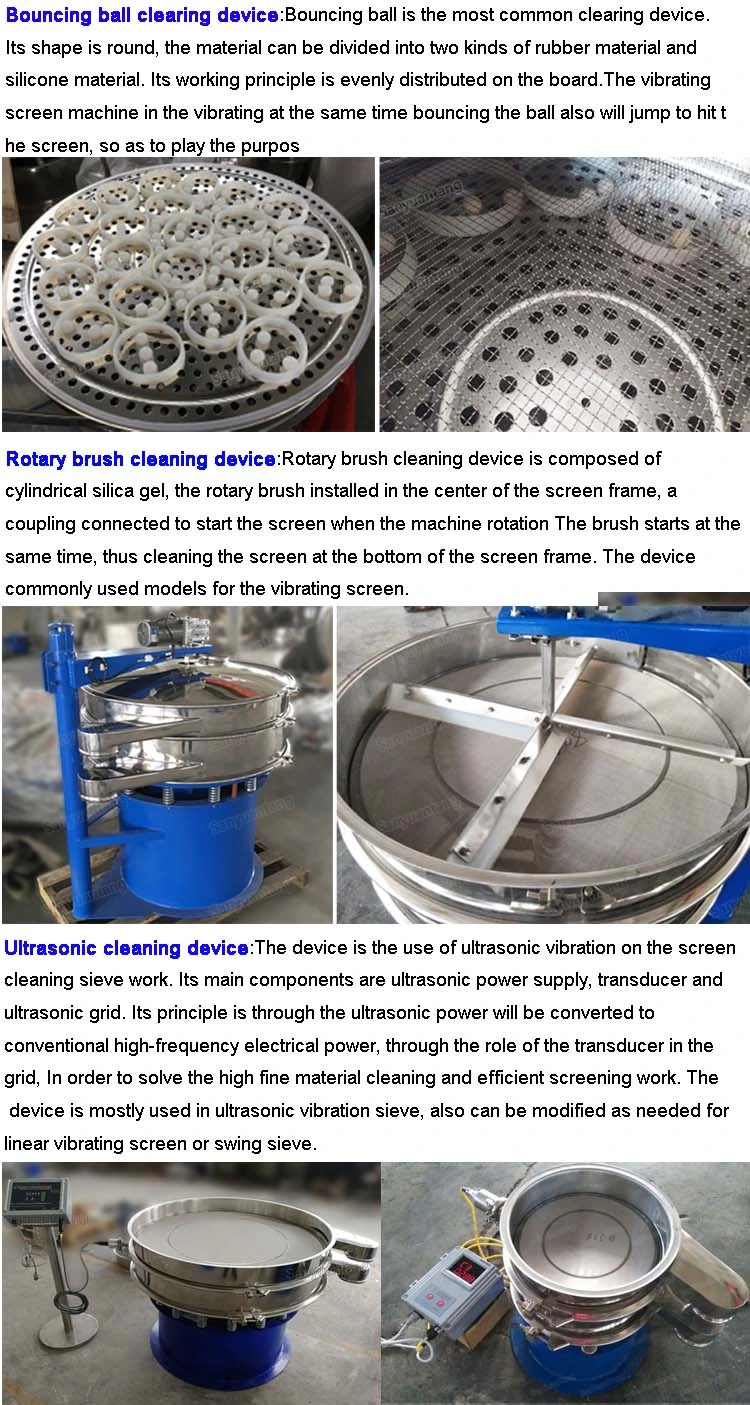 Company Information
Xinxiang Sanyuantang Machine Co.,Ltd.ISO9001 certified enterprise.Our company is located in XINXIANG CITY HENAN PROVINCE CHINA,We are one of leading manufacturer who specialize.
At present, the main range of products include kinds of series of Vibrating Screen,Conveyor Equipment,Honey Processing Machine,etc.
We have advanced manufacture equipment, abundant technology power, complete testing measures, strict management system and favorable corporation credit-standing.
Our products:
1.Vibrating screening;
2.Conveyor equipment;
3.Honey processing machine;
4.Related equipments and spare parts.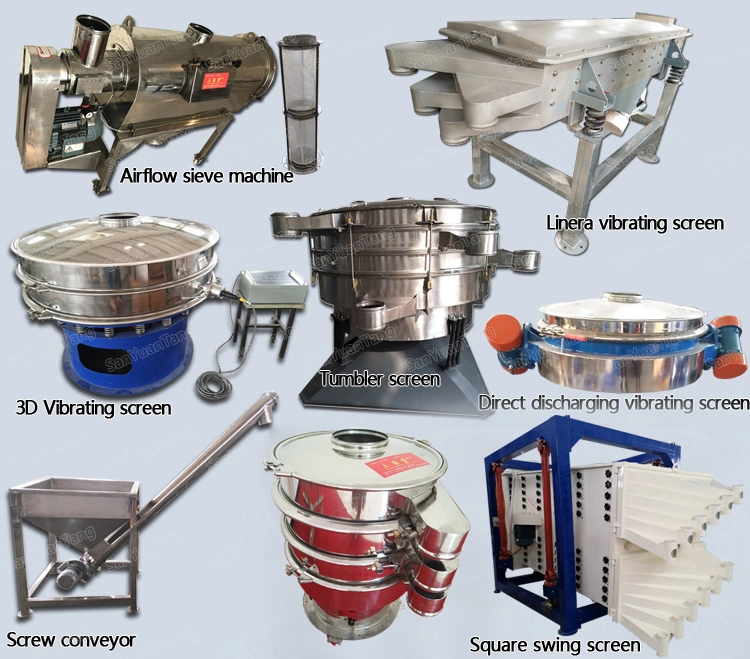 Buying Guides
The proper selection of vibrating screen depends on the material, mesh size, output required, method of input etc:
1. Name of material: _____
2. Moisture:_____%
3. Specific gravity:_____
4. Capacity:________kg/ hour
5. Screen layer:_______
6. Screen mesh size:______ mesh . ______ mesh. ______ mesh
7. Voltage:______V, Frequency:______HZ, ______phase
8. All 304 stainless steel or contact materials part is 304 stainless steel or all carbon steel?
Contact us
If you want to know more about vibrating screen machine,please contact me.