Particle Linear Vibrating Screen, Linear Vibration Sieve Machine

The model uses vibration motor as vibration source, the sieved materials are jumped and moved in the straight movement at the same time. The materials are uniformly entered into entrance, then they go through the screen to separate the materials with different sizes, which was discharged from different gates. It is suitable for low consuming, high output and simple structure, easily maintain all-closed structure, no powder dispersed, automatic discharge.

Advantages of linear vibration sieve machine
| | |
| --- | --- |
| 1 | Can be single or multi-layer arrangement |
| 2 | Screen any powder and particle with large processing capacity |
| 3 | Automatic discharging good and bad processing material, it is more suitable for the assembly line homework |
| 4 | Accord with ISO9001:2008 and CE, BV, SGS |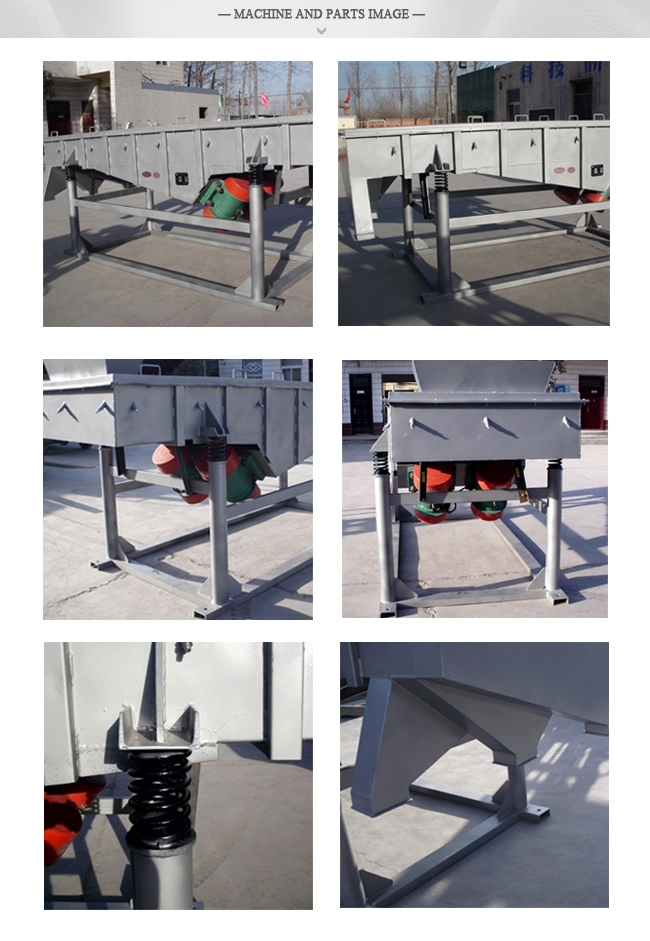 Size can be modified as your requirements, your can find the standard size as follows:
Model

Material granularity
(mm)

Angle

Amplitude

Layer

Power
(KW)
Dimension
(mm)

ZX520

0.074-10

1-7 degree

3-4.5mm

1-6

2*(0.37-0.75)

500*2000

ZX525

2*(0.37-0.75)

500*2500

ZX1020

2*(0.55-1.10)

1000*2000

ZX1025

2*(0.55-1.10)

1000*2500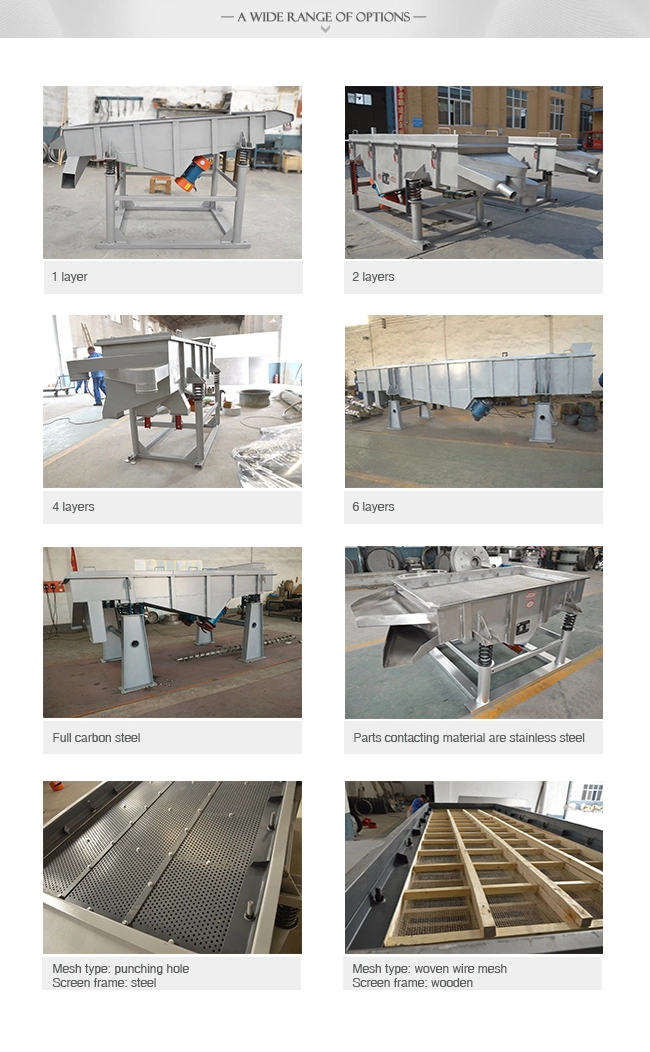 Please note the following information
1. Once machine on operation, the vibration part shall not be connected or contact with any object.
2. When feeding materials, pay attention to ensure the uniform feeding.
3. When the material through down, keeping no big impact to damage the screen.
4. Before operation and power off, there should no be any material on screen surface.
5. If there is any abnormal sound in the operation, the machine should be shutdown immediately and check.
6. Ensure vibration motor maintenance regularly.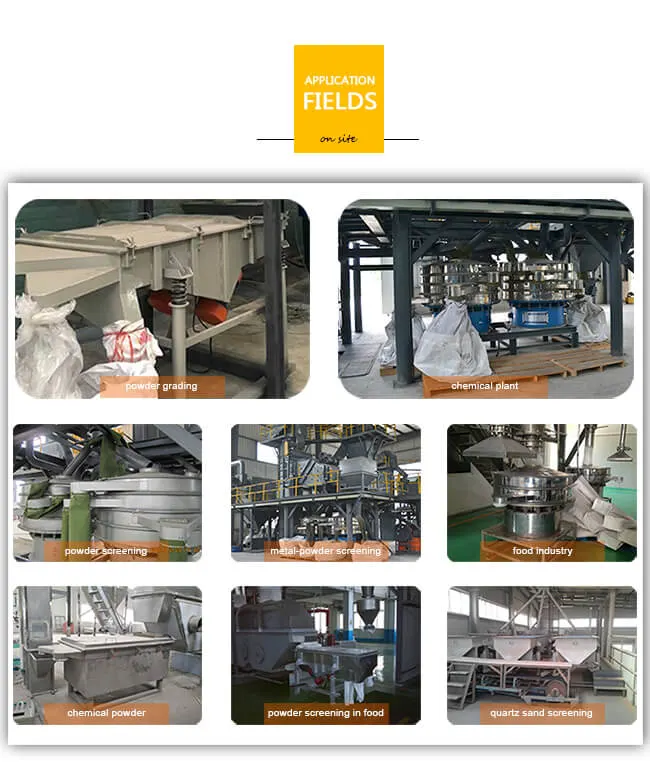 Other equipemnt we can supply
We are one of the prominent manufacturers and exporters of screening and conveying machines to our clients across the globe. Our products are accessed by our clients at affordable prices in the market and they are widely appreciated by our clients for their features like accuracy, superior quality, optimum performance and durability. Our range consists of circular vibrating screen, linear vibrating screen, belt conveying machine and screw conveyor etc.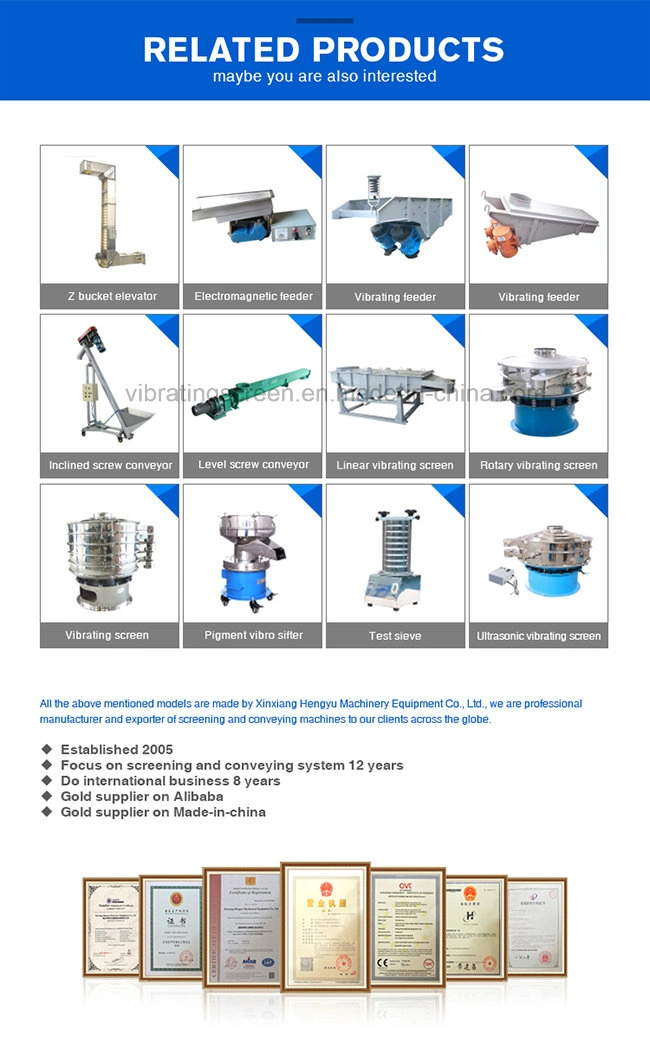 How to get one set of linear vibration sieve machine
1

Material

Name of material

Characteristic of material, such as water content, size of material, specific gravity

2

Machine

Capacity per hour you asked

Sieve mesh for each layer

How many layers you asked

3

Working situation

Voltage, Hertz, Phase

4

Others

Other requirements as needed

Contact us today to start building a bright future together. Email us now...