√ Description of Professional Fine Powder Ultrasonic Rotary Vibrating Screen With Generator

This type of ultrasonic vibrating screen machine is an important breakthrough in the screening frequency, and the machine adopted the advanced techniques and was called high sophisticated screening equipment. It was added to the intelligent vibrating ultrasonic controller, which improves the screening precision. This design is truly realizing the reasonable combination of ultrasonic function and vibration sieve, which reached the international highest level.

√ Working principle
It is made up of ultrasonic controller, converter and resonance loop. Electric oscillation generated by the ultrasonic controller is converted by the converter into high frequency sinusoidal longitudinal oscillatory wave, which transfers to the resonance loop and create resonance and then goes uniformly onto the screen surface. Ultrasonic vibration is added to the low frequency rotating vibration of materials on the screen mesh, preventing mesh clog and enhancing the screen's productivity and quality.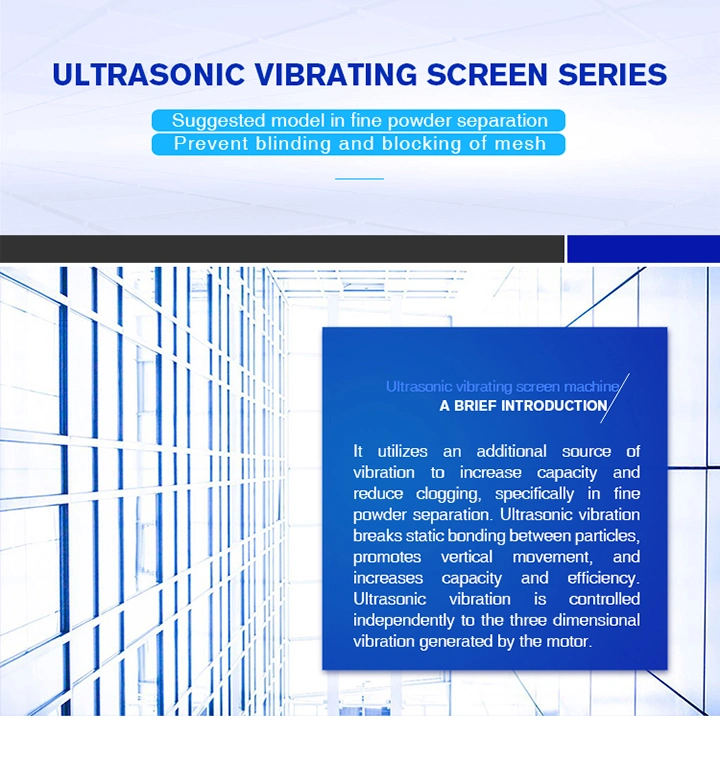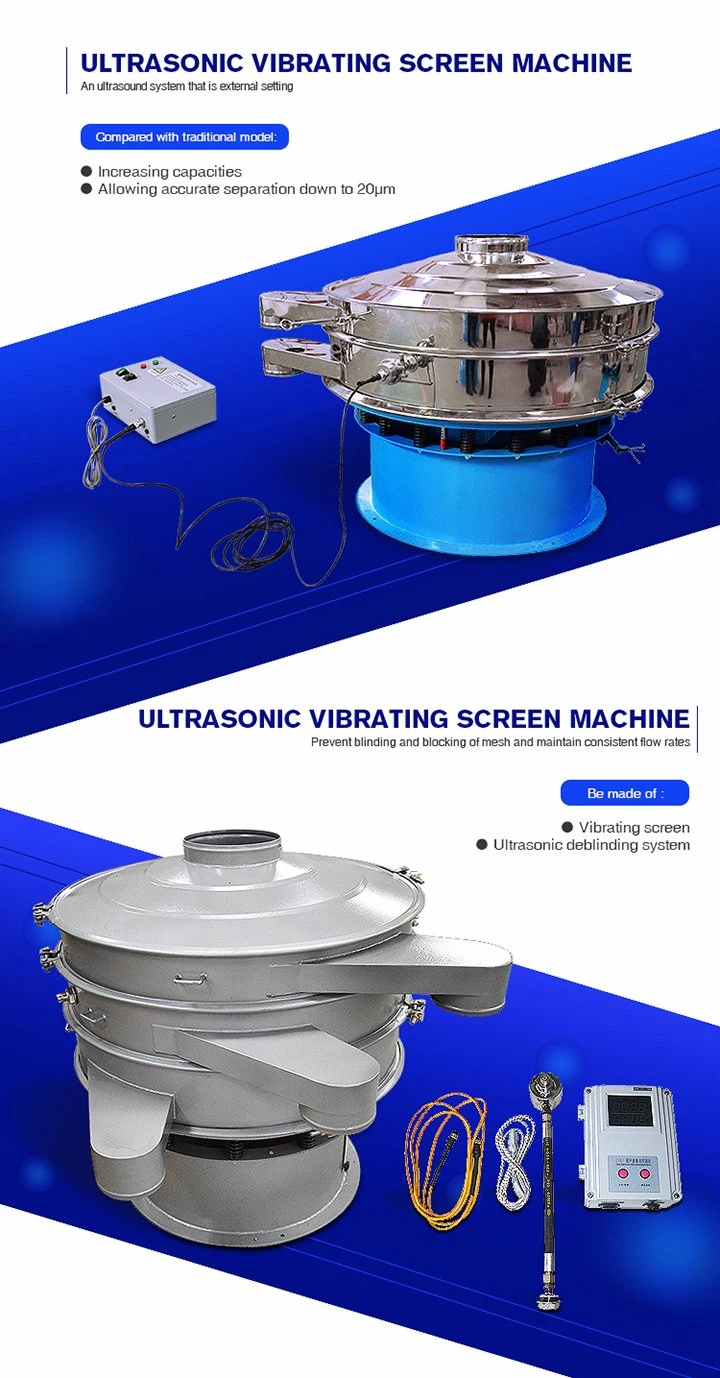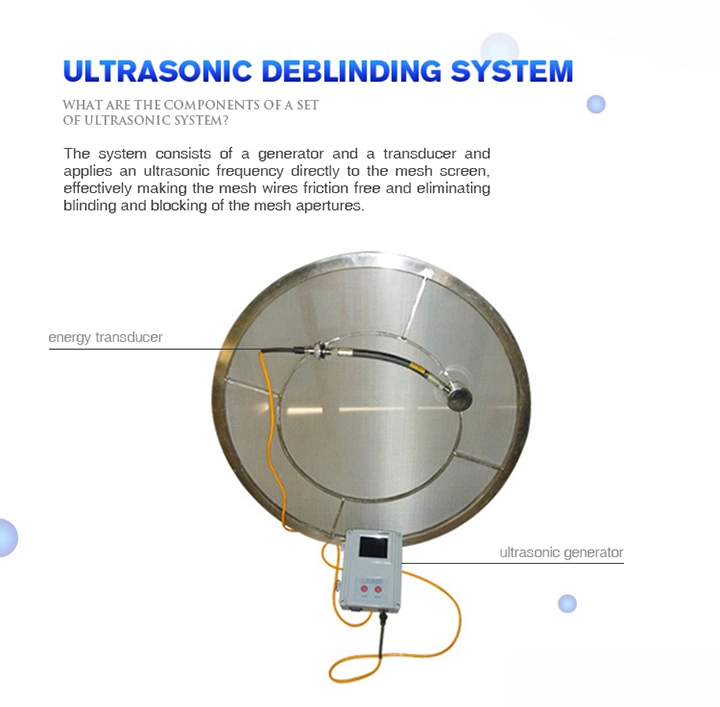 √ Technical parameter
| | | | | |
| --- | --- | --- | --- | --- |
| Model | Power | Effective screening diameter | Dimension(mm) | Layers |
| CSB400 | 0.18kw | 360mm | 580*580*560 | 1 |
| CSB600 | 0.25kw | 560mm | 800*800*750 | 1 |
| CSB800 | 0.55kw | 760mm | 900*900*750 | 1 |
| CSB1000 | 0.75kw | 930mm | 1160*1160*810 | 1 |
| CSB1200 | 1.1kw | 1130mm | 1360*1360*885 | 1 |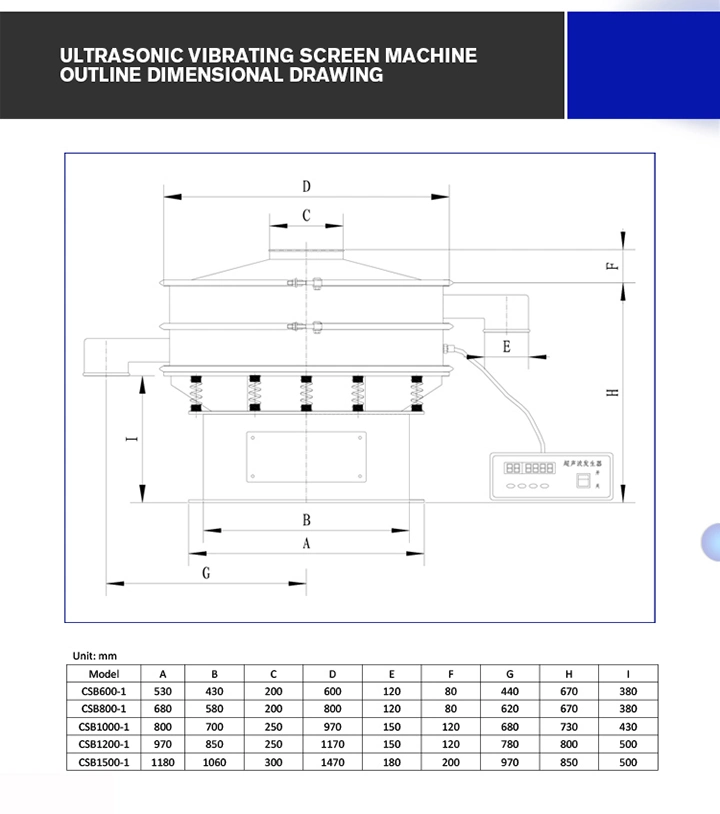 √ Features of ultrasonic vibrating screen machine
1. Fully closed, no dust flying that will help to improve working conditions.
2. Be suitable for sieving the ultra-fine powder, especially for screening the materials difficult to process.
3. Different particles are graded automatically, so the auto-operation can be realized.
4. The outlet's location can be adjusted to anywhere you need. It is very easy to form producing line.
5. Can be installed the omni-directional wheels as request
6. Approved ISO 9001:2008, CE and BV certificates.

√ Functions:
The model of ultrasonic vibrating screen machine is used for efficiently sieving powder with features of light density, low humidity, easy adhesion or super fine powder. It can completely solve the difficult screening problems that similar screening machines cannot solve.

√ Tell us the following information for selection of ultrasonic vibrating screen machine:
1. Handling material
Name of handling material
Characteristic of material, such as water content, size of material, specific gravity
2. Machine
Handling output you asked our machine to get?
How many layers you asked
Sieve mesh for each layer
3. Working situation
Voltage, Hertz, Phase in your local market