High Efficiency Industrial Circular Rotary Flour Vibrating Screen Sieve

Description

This flour vibrating sieve is portable unit, ideal for separation various types of solids from solid mixtures and gradation of products based on their particle sizes to get uniformly sized product. They are designed for screening the dry material through any mesh size as per particles size.
Manufactured also in double/triple/four decks for multiple grading sizes in the same batch in the same process.

Features
1. Mature technology, stable structure and high performance at a good price
2. Screen cloth is durable and high quality with material of stainless steel 304
3. 1-4 layers supplied as request of your screening aim
4. All- closed design, no dust pollution
5. Automatic continuous discharge of oversize and under-size materials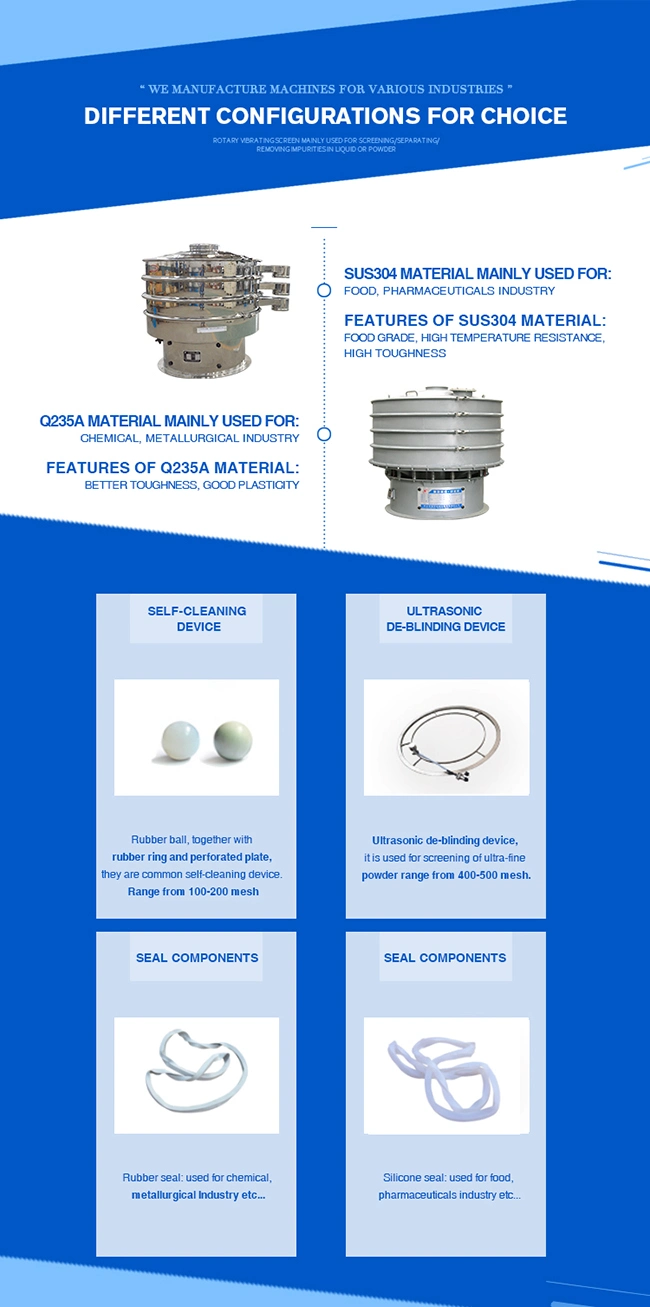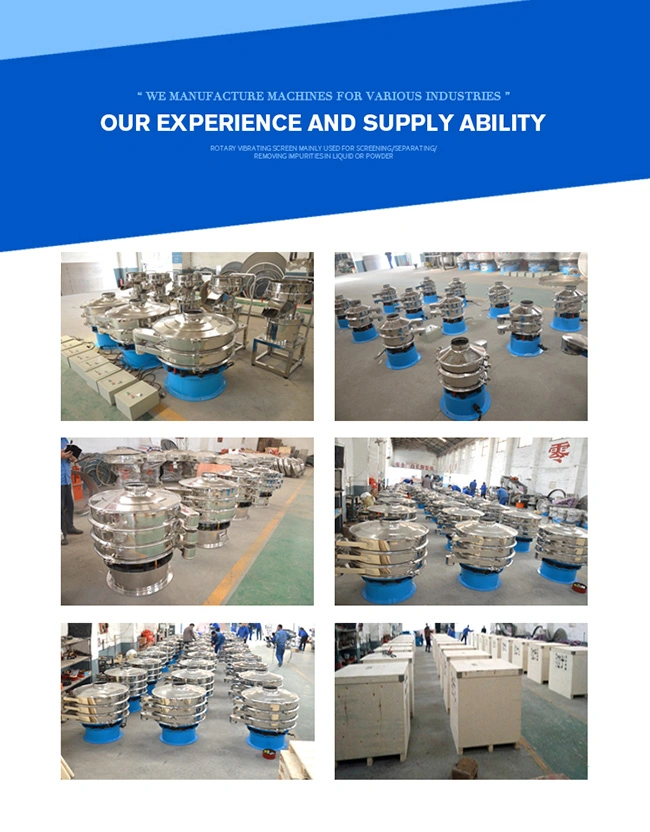 Function
Classification: separation of solids into groups of liked sizes. Accurate sizing or classification of particles in two to five predetermined sizes.
Sifting and De-dusting: separating a small percentage of oversize or undersize solids from a large percentage of on-size solids.
De-watering: separating a small percentage of liquid or oversize solids from a large percentage of solids or on-size solids in a slurry.

Technical parameter
Model

Power

Effective screening diameter

Dimension
(mm)

Layers

BZ400

0.18kw

360mm

580*580*560

1

580*580*670

2

580*580*780

3

BZ600

0.25-0.55kw

560mm

800*800*750

1

800*800*890

2

800*800*1030

3

BZ800

0.55-0.75kw

760mm

900*900*750

1

900*900*890

2

900*900*1030

3

BZ1000

0.75-1.5kw

930mm

1160*1160*810

1

1160*1160*950

2

1160*1160*1090

3

BZ1200

1.1-1.75kw

1130mm

1360*1360*885

1

1360*1360*1050

2

1360*1360*1275

3

BZ1500

1.5-2.2kw

1430mm

1850*1850*990

1

1850*1850*1185

2

1850*1850*1380

3

BZ1800

2.2-3.0kw

1730mm

2200*2200*1050

1

2200*2200*1250

2

2200*2200*1450

3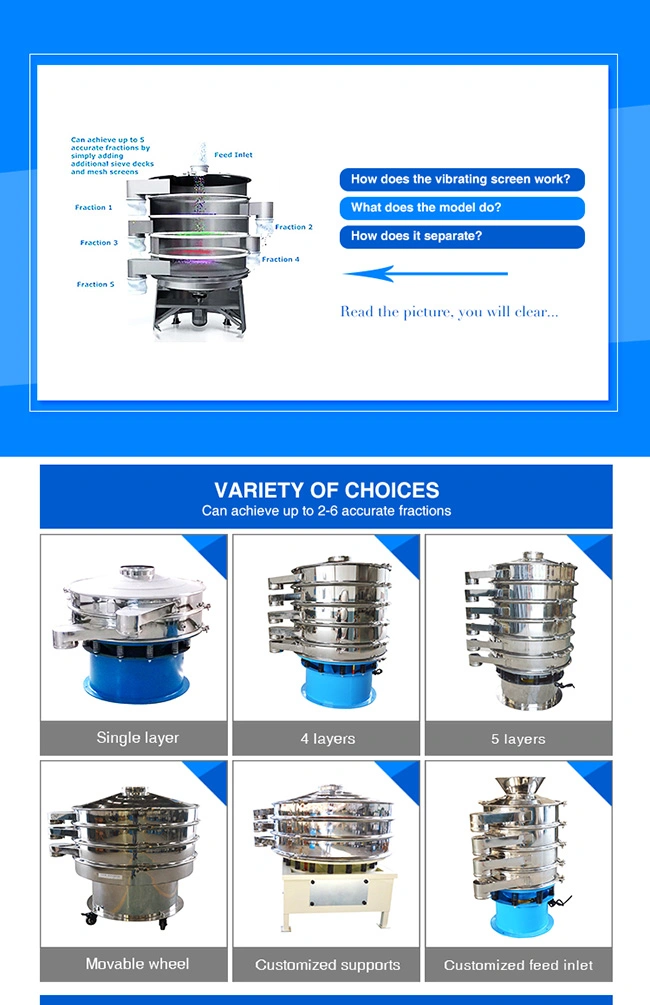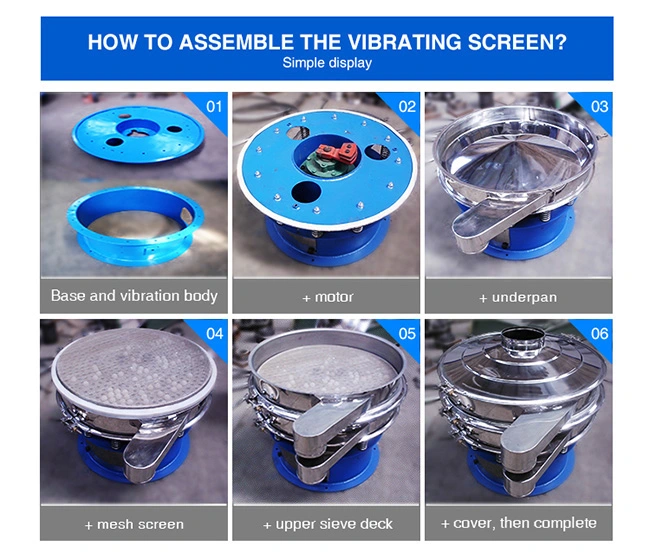 Scope of application
Flour vibrating sieve is widely used in many industries, such as mining, building materials, metallurgy, casting, chemical, pharmaceutical and food industry.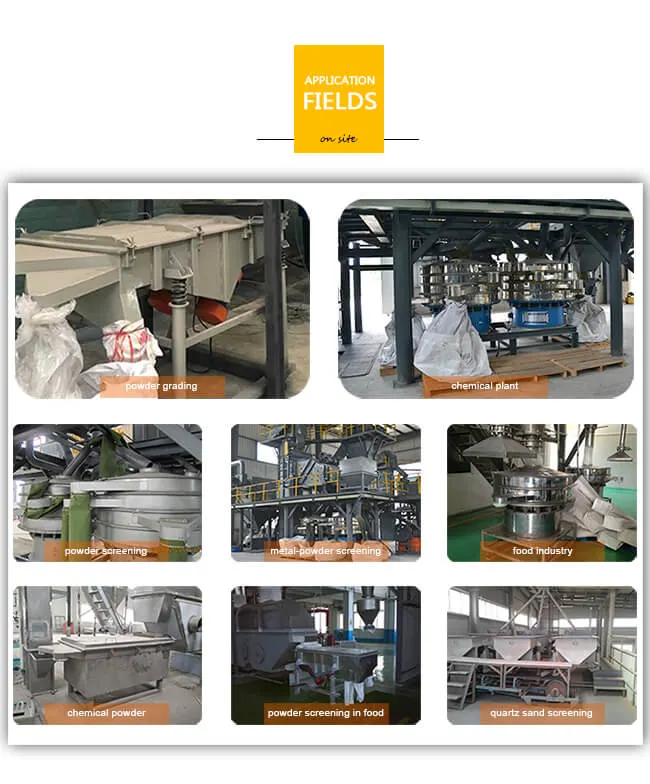 Matters needing attention
1. Once the machine on operation, the vibration part shall not be connected or contact with any object.
2. When feeding materials, pay attention to ensure the uniform feeding.
3. When the material through down, keeping no big impact to damage the screen.
4. Before operation and power off, there should no be any material on screen surface.
5. If there is any abnormal sound in the operation, the machine should be shutdown immediately and to check.
6. Ensure vibration motor maintenance regularly.

How to get one set of flour vibrating sieve? Only by telling us the following information for selection:
1. Material
Name of material
Characteristic of material, such as water content, size of material, specific gravity
2. Machine
Capacity per hour you asked
How many layers you asked
Sieve mesh for each layer
3. Working situation

The above mentioned is our standard model sizes, we are able to design for you according to your aim, working site, production capacity and the features of your material, just feel free to contact us today, let's solve your problems together.