More screening and Less crushing for Energy saving & Emission reduction
Introduction:
1.
No sticking, No pegging, No plugging
2. Performance advantages --- high screening efficiency up to 90%, high reliability, environmental protection, large handling capacity (largest unit handling capacity up to 3000t/h)
3. Applicable to various material (dry, wet and sticky material)
4. Screening of particle size: 3-100mm
5.
Unique creation --- moving screen hole, material self-cleaning technology
6. Small space occupation
Applicable industries and materials:
Applicable industries: coal mining, power plant, coal chemical, coking, metallurgy, construction material, chemical etc.
Classification of particle size: 3mm, 6mm, 8mm, 10mm, 13mm, 30mm, 50mm, 80mm, 100mm (Classification of particle size is subject to actual working conditions)
Applicable industries

Materials

Classification of particle size (mm)

Thermal power plant

Raw coal, lignite, coal gangue, middlings, coal slime, petroleum coke, anthracite, oil shale

8, 10, 13, 30

Coal mining and washing plant

Various raw coal, gangue, middlings, coal slime

4, 6, 13, 50, 80, 100

Coking

Coking coal

3

Coal liquefaction, gasification and chemical

Various raw coal, petroleum coke

3, 6, 10, 15, 30

Metallurgy, chemical

Limestone, white mica, phosphate ore, oil shale

3-30, 30-80

Aluminium oxide, laterite nickel ore, gypsum, coke, furnace charge

3-80

Construction material

Limestone, dinas, construction waste

3-5, 10-20, 20-40
Working principle:
The screen deck of cross roll screen is composed of multiple sets of rotary rollers with disks, all disks on adjacent roller are crossed to form moving screen holes, the materials in the screening area are classified during moving process, small particles go downward and large particles move forward, thus small particles are exposed to rotating disks and are forced to go through the holes via rubbing of adjacent disks. The large particles impact and break the agglomerated particles during movement and clean the small particles on the rollers and disks. Below the rollers, there are scrapers to clean the residues and ensure open holes without plugging, sticking and pegging.
Material stratification by wave movement and rolling of material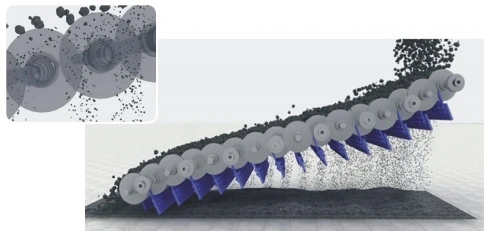 Structure: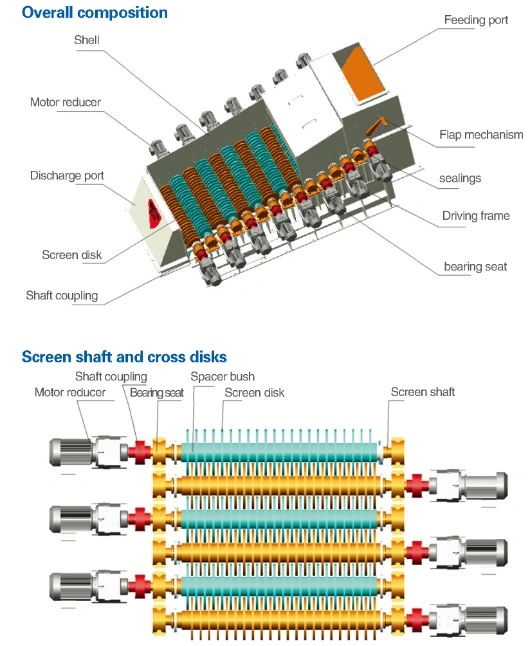 Patents: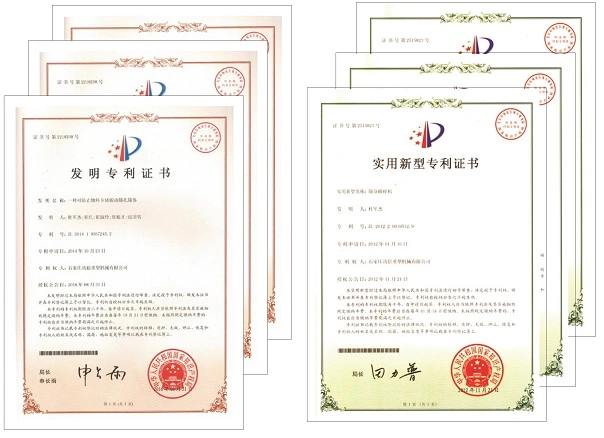 Projects (transportation from twin-roll drum screen to cross roller screen):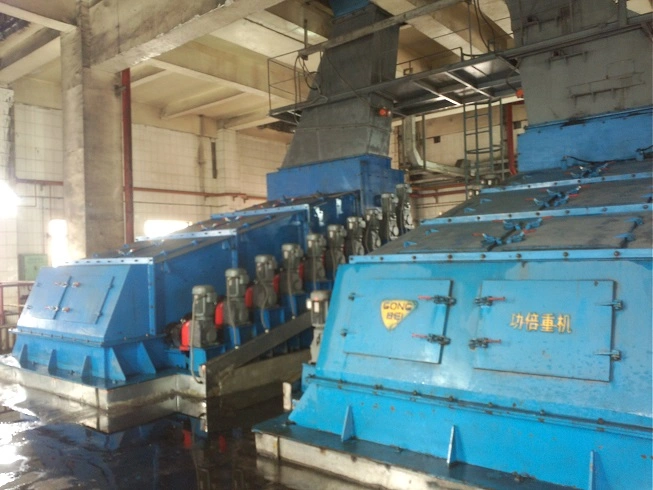 1. Working condition:
Coal quality: raw coal + coal slime, ration of raw coal and coal slime 1:1.5-2;coal≤8mm accounts for 65%
Water content: 10%-20% Requirement of particle size: 8mm
2. Equipments before and after transformation:
Before: 2 sets of twin-roll screen (ZZS-800), design handling capacity: 800t/h, rated power: 230Kw
After: 2 sets of cross screen (CRS-2220), design handling capacity: 800t/h, rated power: 120Kw
3. Comparison:
Item
Before
After
Conclusion

Equipments

SZZ-800 twin roll screen

CRS2220 cross screen

Max. handling capacity

550t/h

650-750t/h

Increased 45.5%

Screening efficiency

0-30% (plugging & pegging)

≥91%

Always above 90%

Power consumption of coal feeding system

570536kwh (Apr. 2013)

375315kw (Apr. 2013)

Saved USD178000 of power consumption

710016kwh (May 2013)

381704kw (May 2013)

Fly ash & slag




(2# boiler)

Fly ash: 2.27%

Fly ash: 2.06%

Decreased 9.25%

Slag: 0.42%

Slag: 0.29%

Reduced 31%

Annual maintenance cost

USD30000/set




(maintenance, cleaning, spare parts)

Less than USD3000




(spare parts)

Significantly reduced labor and maintenance cost
Addition: (1) Reduced 40% of crushing machine load;
(2) Reduced crushing machine wear on the components (hammers etc.) and saved spare parts expenditure (USD24000).
Why choose GONGBEI products?
1. More than 40 years of technical research and development of material screening and crushing
2. The best R&D and technical personnel with the most achievements in screening and crushing fields
3. With various experiment database for then thousand materials
4. Entrusted National Inspection Center as third inspection party to ensure quality
5. Professionial aftersales service team
Solutions of crushing and screening technologies
1. Packaged technology for crushing and screening of material ranging form 0.1mm to 1000mm, equipment selection and development & manufacture.
2. Technology and equi0pments for crushing and screening of dry, wet and sticky materials, as well as technical upgrading service.
3. Patented technology and equipments for ultrafine grinding and crushing of material that is less than 3mm
4. Customized design and equipments dedicated for intelligent clean power generation, intensive coal separation, clean coal technology, fine chemical engineering, green mining, soil remediation, soil waste disposal and other materials handling etc..