Brief Introductions of vibrating screen
The circular vibrator is driven by an inertial vibrator with an eccentric block fixed in it, which makes the sieve box vibrate. Because of the position deviation of the vibrator installation, the actual motion track of the sieve box is usually ellipse. The machine mainly comprises a sieve box, a screen mesh, a vibrator, a vibration-damping spring device, a chassis, a suspension(or support)device,and an electric motor. In addition, the vibrator adopts the eccentric structure, the feeding box can be selected, the application of the feeding box increases the effective screening area of the vibrating screen, and the service life of the feeding end screen is prolonged.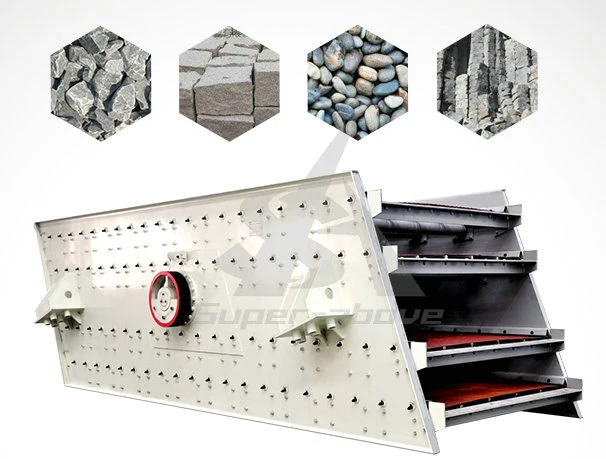 Main features of vibrating screen
1. Reliable structure and strong vibration force, high screening capacity.
2. Widely used in mining, building materials, metallurgy, energy and chemical industries.
3. Vibrating screen can be adjusted of the screen inclination to achieve the best screening effect.
4. Low noise and smooth structure small impact on the motor.
5. Wide application and high screening efficiency.
6. Low noise and no dust that create a good working environment.
7. Replace the different mesh sizes to meet customers' requirements.
8. Screen replaceable for different mesh sizes, multilayer screens.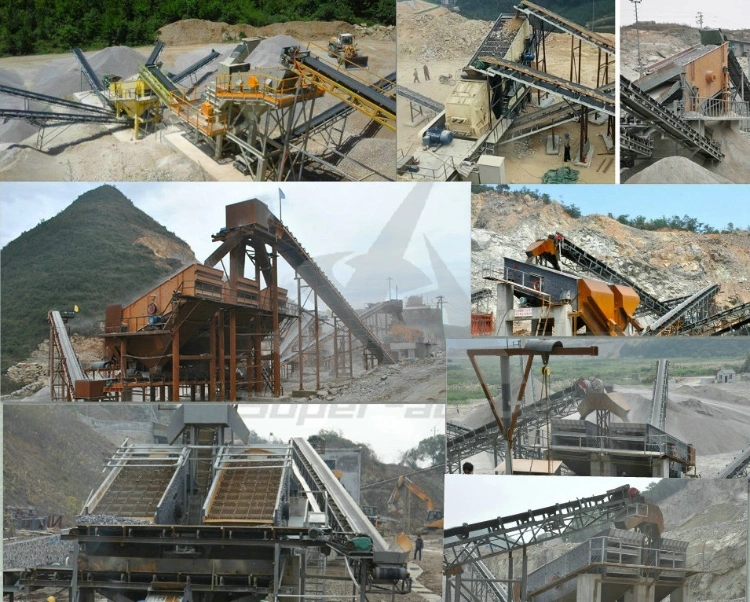 Working principle of vibrating screen
Vibrating screens is compiled of mainframe, eccentric bock, screen web, rub spring, electric motor, coupler and some more. Vibrating Screen moves round. It has multi-layers and is of high efficiency. The eccentric shaft vibration exciter and partial block help to adjust amplitude. The material drops down along the long line. We have always kept in our minds the choices, preferences and the tastes of our all clients. We will offer you suitable type according to your requirements.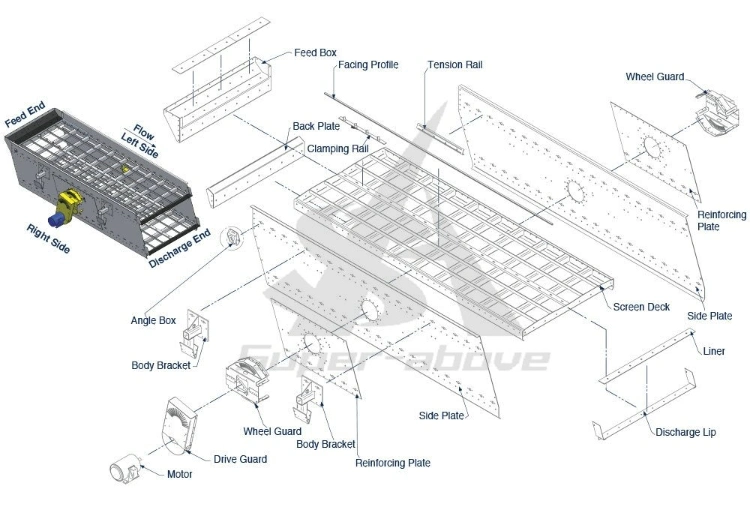 Specifications of vibrating screen
1>. S5X series vibrating screen
| | | | | | | | | |
| --- | --- | --- | --- | --- | --- | --- | --- | --- |
| Model | Screen Size W×L(mm) | Screen Layers | inclination (°) | Vibration frequency (RPM) | Double amplitude (mm) | Power (kW) | Capacity(t/h) | Mesh Size(mm) |
| S5X1230-2 | 1200×3000 | 2 | 18(18-25) | 800-900 | 7-12 | 11 | 25-200 | 2-70 |
| S5X1545-2 | 1500×4500 | 2 | 18(18-25) | 800-900 | 7-12 | 11 | 45-380 | 2-70 |
| S5X1545-3 | 1500×4500 | 3 | 18(18-25) | 800-900 | 7-12 | 15 | 45-380 | 2-70 |
| S5X1845-2 | 1800×4500 | 2 | 18(18-25) | 800-900 | 7-12 | 15 | 60-450 | 2-70 |
| S5X1845-3 | 1800×4500 | 3 | 18(18-25) | 800-900 | 7-12 | 22 | 60-450 | 2-70 |
| S5X1860-2 | 1800×6000 | 2 | 18(18-25) | 800-900 | 7-10 | 15 | 75-600 | 2-70 |
| S5X1860-3 | 1800×6000 | 3 | 18(18-25) | 800-900 | 7-12 | 30 | 75-600 | 2-70 |
| S5X1860-4 | 1800×6000 | 4 | 18(18-25) | 800-900 | 7-12 | 37 | 75-600 | 2-70 |
| S5X2160-2 | 2100×6000 | 2 | 18(18-25) | 800-900 | 7-12 | 22 | 85-700 | 2-70 |
| S5X2160-3 | 2100×6000 | 3 | 18(18-25) | 800-900 | 7-12 | 30 | 85-700 | 2-70 |
| S5X2160-4 | 2100×6000 | 4 | 18(18-25) | 800-900 | 7-11 | 37 | 85-700 | 2-70 |
| S5X2460-2 | 2400×6000 | 2 | 18(18-25) | 800-900 | 7-12 | 22 | 100-800 | 2-70 |
| S5X2460-3 | 2400×6000 | 3 | 18(18-25) | 800-900 | 7-11 | 30 | 100-800 | 2-70 |
| S5X2460-4 | 2400×6000 | 4 | 18(18-25) | 800-900 | 7-10 | 37 | 100-800 | 2-70 |
| S5X2760-2 | 2700×6000 | 2 | 18(18-25) | 800-900 | 7-12 | 30 | 120-900 | 2-70 |
| S5X2760-3 | 2700×6000 | 3 | 18(18-25) | 800-900 | 7-11 | 37 | 120-900 | 2-70 |
2>. YK series vibrating screen
Model

Screen Size (mm)

Layers

Mesh Size (mm)

Feeding Size (mm)

Capacity (t/h)

Power (kw)

Motor




Model

REV (r/min)

Amplitude (mm)

Angle (°C)

Machine Size (mm)

2YK1237

1200×3700

2

3-50

≤200

7.5-80

4-15

Y160L-4/15

970

8

20

4010×2250×2660

3YK1237

1200×3700

3

3-50

≤200

7.5-80

4-15

Y160L-4/15

970

8

20

4010×2250×3140

2YK1548

1500×4800

2

5-50

≤400

50-208

4-15

Y160L-4/15

970

8

20

5120×2590×3060

3YK1548

1500×4800

3

5-50

≤400

50-250

4-15

Y160L-4/15

970

8

20

5120×2590×3540

2YK1848

1800×4800

2

5-80

≤400

50-260

4-18.5

Y180M-4/18.5

970

8

20

5120×2950×3060

3YK1848

1800×4800

3

5-80

≤400

50-300

4-18.5

Y180M-4/18.5

970

8

20

5120×2950×3540

2YK1860

1800×6000

2

5-80

≤400

50-300

4-18.5

Y180M-4/18.5

970

8

20

6260×2950×3480

3YK1860

1800×6000

3

5-80

≤400

50-350

4-22

Y180L-4/22

970

8

20

6260×2990×3960

2YK2160

2100×6000

2

5-150

≤400

100-500

4-22

Y180L-4/22

730

6-8

20

6270×3410×3670

3YK2160

2100×6000

3

5-100

≤400

100-500

4-30

Y200L-4/30

730

6-8

20

6270×3470×4100

2YK2460

2400×6000

2

5-150

≤400

150-700

4-37

Y225S-4/37

730

6-8

20

6270×3770×3610

3YK2460

2400×6000

3

5-150

≤400

150-700

4-37

Y225S-4/37

730

6-8

20

6270×3790×4100