Introduction
We are the gold manufacturer for mining equipment from China.High frequency vibrating screen is designed by our company basing advanced technology.There are three model including DGS-6,DGS-10,DGS-15.The sieve size is from 0.1to 0.5 and also it can be customized in different needs.The dimensions alsocan be customized.It has a series advantages,such as high frequency,low amplitude ,high screening efficiency.Stainless screen mesh and high molecular abrasion-resisting screen deck were aplyed to the equipment to prolong the service life.


Feature
1.High efficiency, low energy consumption.
2.Simple structure, convenient maintenance.
3.Fully closed structure without dust pollution.
4.Stable working station and smooth operation.
5.High utilization rate of screen, large unit area, not easy to block, but easy replacement of screen.High-precision screening reach to 96% or above, large processing capacity, etc.
6.The screen box has no vibration and only the screen surface has vibration.
7.High frequency vibration, strong vibration intensity and high screening efficiency. Very suitable for the screening and dehydration of fine powder materials.
8.The screen surface is made up of 3 layer wire meshes of stainless steel. The high opening rate and certain stiffness help to install easily and improve the service life.
9.The installation angle of the screen can be adjusted conveniently at any time.
10.The vibration parameters are set by computer control, so the screening mesh will never be blocked.
11.Low power consumption.
12.Closed-end operations can be easily achieved to reduce environmental pollution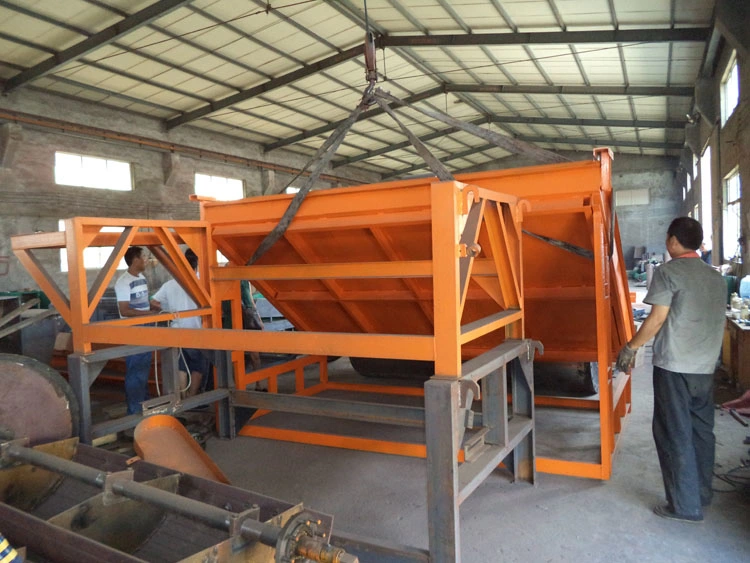 Application
The vibrating screen is widely used in mining,building materials,transportation,energy and chemical and etc.industry for product classification.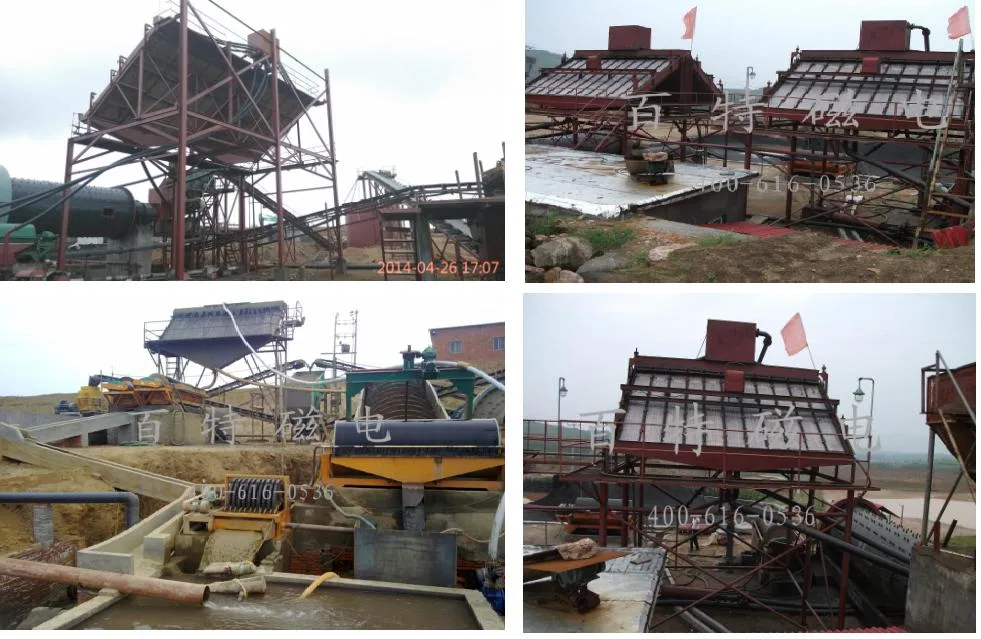 Technical Data
NO.

Model

Size(mm)

Capacity
(t/h)
Effective
power (kw)

1

DGS-6

0.1

0.074-0.3

5-7

45-60

3000

0.25

0.15

0.2

0.3

0.5

2

DGS-10

0.1

7-10

0.35

0.15

0.2

0.3

0.5

3

DGS-15

400×1200×15

0.1

10-15

0.45

0.15

0.2

0.3

0.5

Note:The dimensions can be customized to the users' needs.
Packaging & Delivery
Packaging Details:
Exported standard packing.
Delivery Detail:
Shipped in 20-30 days after payment
Company & Customer Visiting
There is no better , only better.
Weifang baite Magnet Technology Co., Ltd . is a modern joint-stock enterprise, which is producing magnetic and power equipment .The service is related to more than 10 areas ,such as electricity , coal ,building materials, metallurgy ,ports ,mining ,nonferrous metals ,power environmental production .At present ,we have provided more than 3000 domestic customers with reliable and value-added and convenient professional equipment and programes, and at the same time ,we occupy more than 60%magnetic separation equipmemt matching share of China ball mill, crusher, iron sand ship and other production industry, Baite has firmly implemented IS09001:2000 international quality magnagement system standard and IS010012 international quality inspection system standard.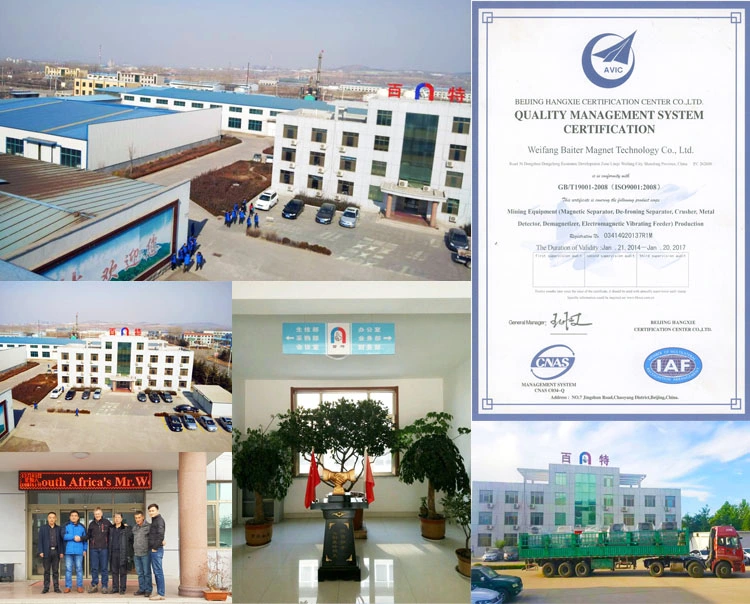 Factory Advantages & Service
Baitemagnet factory for general users and special users design and production of various types of customized products.The company owns 3, 000 square meters of mine machinery production plant in linqu area of weifang, and each product has a separate workshop to assemble specialized production workers.Most of our products are self-developed products, combining with advanced technology at home and abroad to ensure that the industry is competitive and fully meets the technical requirements of customers.Our production capacity is strong, and we have a special production line for customers who are in urgent need of the goods.
We are full of enthusiasm, high quality service, think the customer value is the principle. Provide the spare parts and vulnerable parts of the products at the factory price.
Once the equipment failure in the process of production, the company within 24 hours to the customer's phone must come up with a clear solution, and to resume production first and then the responsibility attitude quickly solve the problem.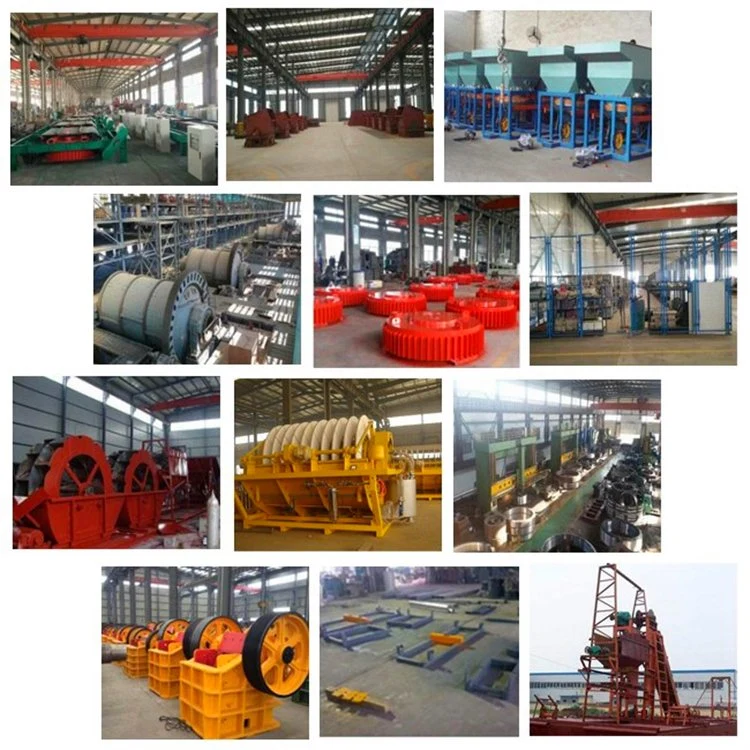 FAQ
1.Q: Can you provide samples?
A: Yes. We can make customized samples to you for quality checking and design confirmation.
2.Q: How long is the warrenty of your equipments? Does your company supply the spare parts?
A: The warranty period of Gelin equipments is one year. And of course we will supply the spare parts for you for life-long time at lowest cost.
3.Q: How to make the payment?
A:we accept the payment by T/T or Western Union or Cash, L/C .For T/T, the customer can choose 100% in advance or 30% in advance, and pay the 70% balance before shipment.
4.Q: What is the shipping port?
A: Usually we ship from Qingdao port. If you want to ship from another port we can coordinate with you.
5.Q: What is the lead time?
A: 30-45 days after payment and production drawing confirmation.
6.Q: What is your MOQ?
A: Normally 1 piece is acceptable. Please consult with our sales for details.