ultrasonic vibra screen for coating powder (SYC1200-1S)
Product Description of ultrasonic vibrating screen sifter
Description of gyro vibrating screen separator

"SYC series ultrasonic vibratory screen"is equipped with the smart ultrasonic control transducer which can convert 220V,50HZ single phase or 110V 60HZ single phase to the 30-36KHZ high frequency energy so as to achieve the high efficiency sieving and screen net self cleaning purpose.On the basis of traditional vibrating screen, there is an additional ultrasonic vibrating mechanical wave of low amplitude and high frequency on the screening mesh.The wave can improve the screening performance of the super fine powder.
It supports at most 5 layers. But 3 layers is highly recommended.
It has 4 available material,

all stainless steel 304 or 316 or touching part sus304 or carbon steel Q235A.


With large capacity, small volume, high screening efficiency, easily changed screen and good safe performance.
The voltage is supported to be customized. 220/240/380/415/450V are all available. 50 or 60HZ.
With large capacity, small volume, high screening efficiency, easily changed screen and good safe performance.
The Ultrasonic Vibrating Screen System consists of the ultrasonic generator,transducer,resonant ring.The ultrasonic generator creates high frequency oscillation and transducer will convert it to the high frequency sine shaped longitudinal oscillatory wave, then the oscillatory will be transmitted to the resonant ring and creates the sympathetic vibration; The resonant ring will transmitted the vibration to the screen surface evenly.In this case, based on the low frequency three dimensional movement and supersonic vibration wave, the machine can not only keep off the screen mesh jam but also can improve the sieving capacity and quality.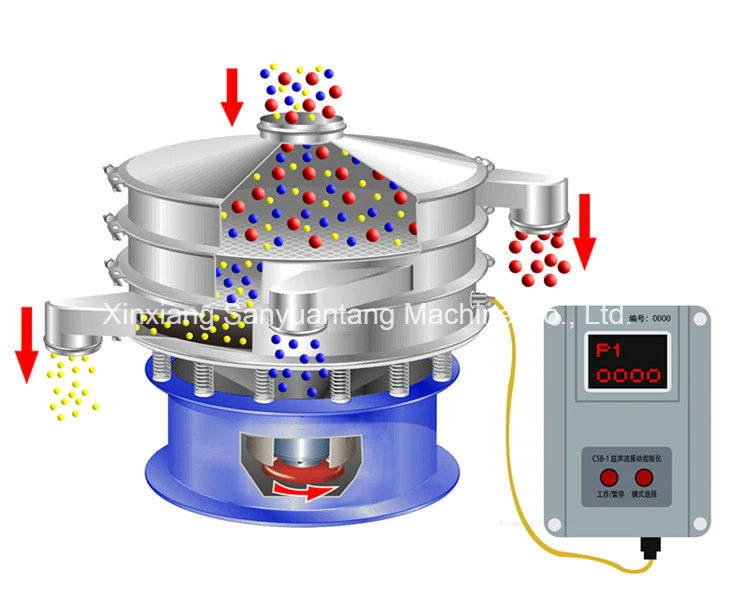 Model

SY400

SY600

SY800

SY1000

SY1200

SY1500

SY1800

Screen Diameter (mm)


ø380

ø580

ø780

ø970

ø1170

ø1470

ø1770
Effective Area (m2)

0.1

0.23

0.41

0.65

0.99

1.58

2.32

Screen mesh

100-500mesh

Layers

1-3

1-3

1-3

1-3

1-3

1-3

1-3

Vibro motor (kw)

0.25

0.55

0.75

1.1

1.5

2.2

3.0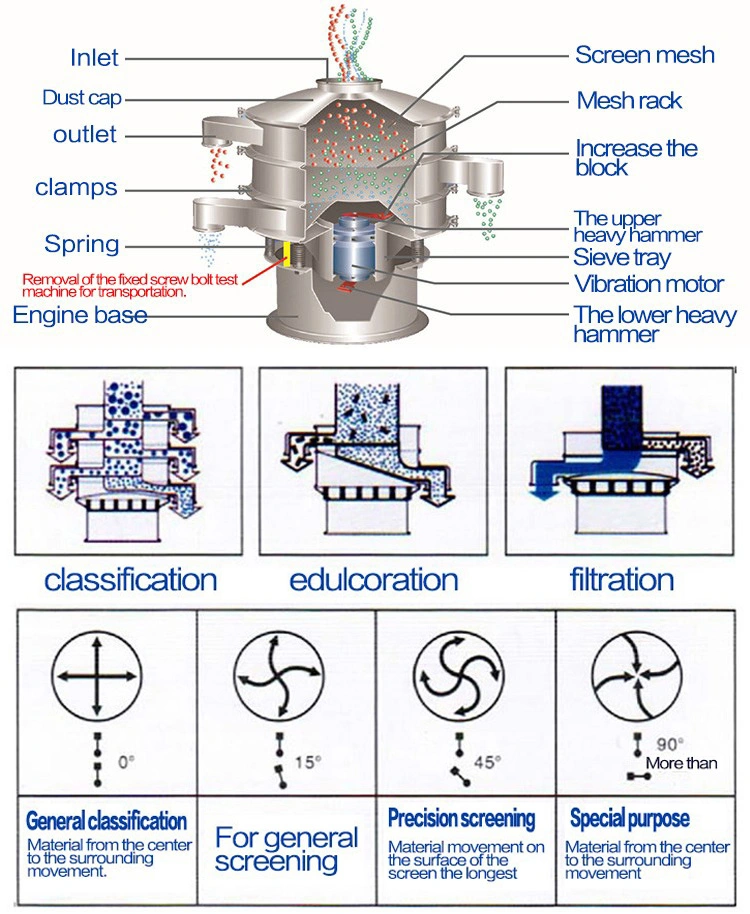 Features of
rotary vibrating screen separator
1. All- closed design of standard vibrating sieve shaker, no dust pollution.
2. High efficiency, both rough grading and fine screening can process.
3. Special screen design, easy to change(only need 3~5 minutes); long screen life of screen mesh, easy to clean.
4. The outlet's location can be adjusted to anywhere you need.
Application of powder vibrating screen separator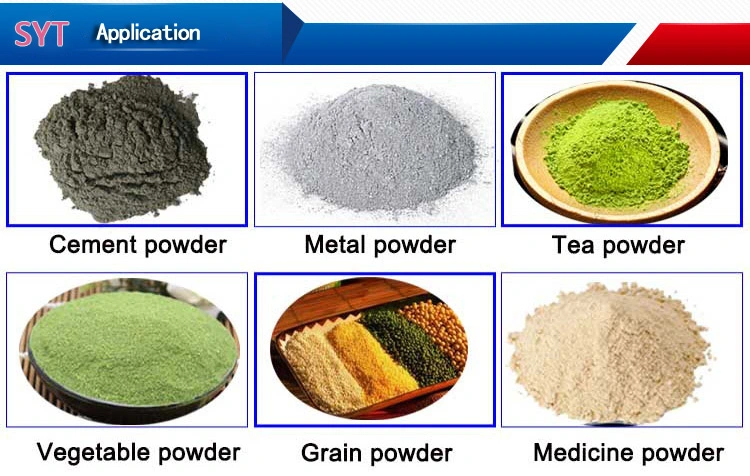 Many kinds of the materials within 0~400 mesh like dry, wet, refined, coarse, heavy and light as well as those within 0~500 mesh like liquid and pasty materials can be screened by the machines.Details are as follows:
Chemical industry: resin, pigment, medicine, grease, extinction agent, rubber and plastic.
Abrasive, glass and ceramic professions: silicone sand, aluminum oxide,grindingabrasive,glass dust and fire-proof material.
Foodstuff: sugar, salt, alkali, glutamate, starch, powdered milk, soybean milk,yeast and fruit juice.
Papermaking profession: coated slurry, black and white liquor,padding fluid,waste liquid and waste water recycling.
Iron-smelting and mining industry: quartz sand, ore, titanium oxide and zinc oxide.
Mechanical profession: casting sand, powder metallurgy, electromagnetism material, aluminum powder, metal powder and alloy.
Environmental protection: trash, human and animal fecaluria,industrial waste water,food waste water and waste water processing.
Others:carbon black,activated carbon and pearl.
Photos of circular vibrating screen separator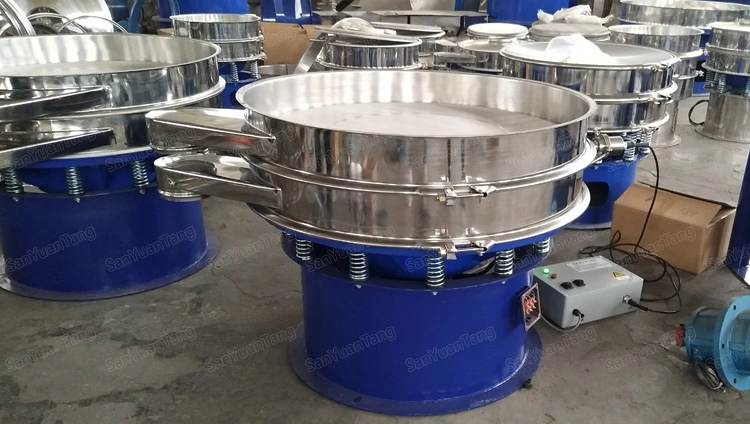 Company Information
Xinxiang city Sanyuantang Machinery Co.,Ltd, ISO9001 certified enterprise, specializes in manufacturing series of vibrating screen and vibrating machine and we could design, develop and produce by ourselves.
At present, the main range of products include kinds of series of Vibrating screens, Vibrating separator,Vibration filter, Ultrasonic vibrating screen, Sifting machines, Filtering machines, Linear vibrating screens, Testing sieve shaker, Vibrating conveyers, Screw conveyor,Bucket elevator etc.
We have CE and ISO certification.The quality and technology of our products have reached the international advanced standard.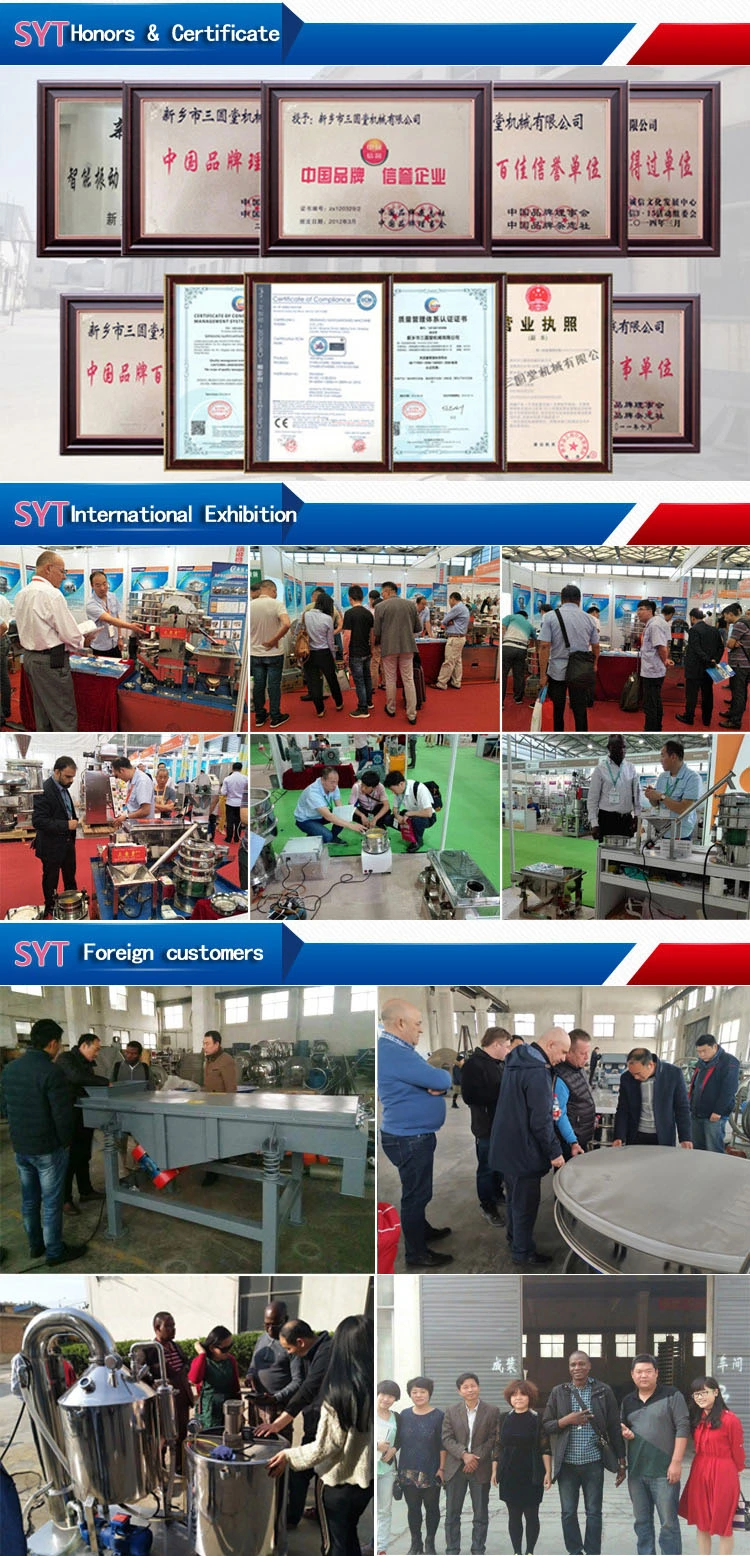 FAQ
1,What is the material you want to sieve? (Could you send us some pictures)
For example: flour powder.
2,How about the features of your material?(Like moisture and bulk density)
Like: 1%-10%; 1.25g/cm3
3,What's the mesh size (material/particle size) you need?
Answer:80 mesh(0.18mm), 100mesh(0.15mm)
4,The proportion of materials per layer?
Like:0.18mm is 40%, 0.15mm is 60%.
5,How much the capacity (kg/h) you want?
Like: 600-800kg/h.
Please write drown your inquirment, and send to me!
⇓